The iPad is taking off faster than anything Apple has shipped before, including the iPod and iPhone, both a pair of monster hits.
Look at this amazing chart from Mary Meeker, a former Wall St. analyst who is now with the VC firm Kleiner Perkins Caufield & Byers. It shows the initial shipments of the iPad compared to the iPhone and iPod.
When the iPod was introduced in 2001, Apple shipped 236,000 units in the first three quarters. In 2007, the iPhone shipped 3.7 million units in its first three quarters. But the iPad blows both away: 14.8 million units shipped.
Steve Jobs has said the iPad was like "catching a tiger by the tail." No kidding.
And here's how the iTunes App Store is selling vastly more apps than it sold music or movies: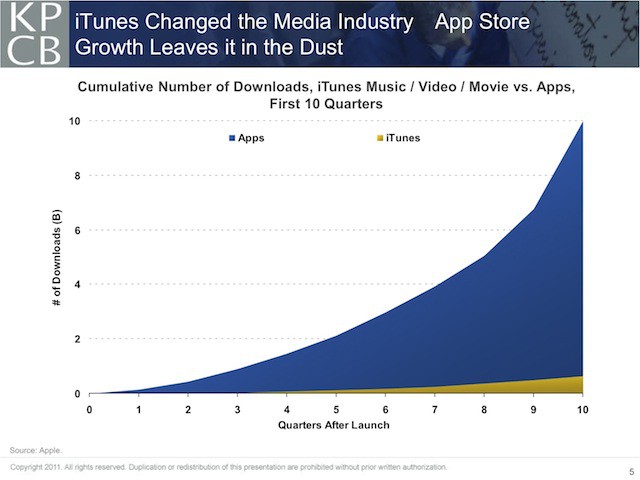 The slides are from a presentation by Meeker and her Kleiner Perkins partner Matt Murphy at Google's thinkmobile conference. The complete slideshow is embedded below.
Google's not doing so bad either. Here's Android's growth.
This is what Meeker and Murphy predict for 2001 and beyond. Notice how the trends play to the rumor's of the iPhone 5 and iPad 2: NFC and enterprise adoption.
• HTML5 vs. downloadable apps
• NFC (Near Field Communication) for payment / offers / loyalty
• Consumer led mobile health for monitoring / diagnosis / wellness
• Rapid enterprise adoption of tablets for productivity
• Tipping Point – > 50% population in developed markets will have Smartphone
• "SoLoMo" – Social / local / mobile converging • "Gamification" – Ultimate way to engage a new generation of
audiences
• Empowerment – impact of empowering billions of people around the world with real-time connected devices has just begun…