And you thought getting busted for checking out porn at work was bad: an Italian member of parliament was snapped checking out prostitutes on his iPad during a session.
Except that in the Viagra-fueled Italian government that's pretty much business as usual. Simeone Di Cagno Abbrescia, 67, is a member of Italian premier Silvio Berlusconi's PDL party, who perhaps thought checking out what to do after work on the iPad's glossy 9.7-inch screen was no big deal.
The tablet computer – if he'd had a laptop he could've adjusted the screen down – was probably what got him busted by a fellow politician with a phone cam.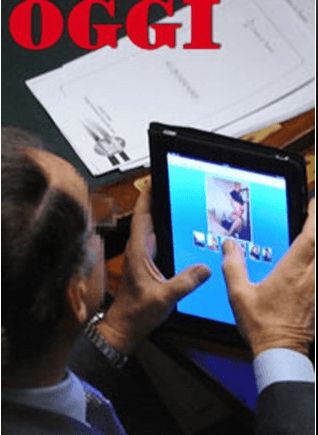 Berlusconi has been dogged by a series of scandals involving women, some of them underage, a bunch of them are escorts. He faces a trial over his antics with a 17-year-old Moroccan nightclub dancer. The 74-year-old's-defense? Essentially that he has never paid for sex – the women at his "bunga bunga" orgies all attended willingly and without getting compensation to entertain his cronies.
The escort iPad pics hit newsstands today in one of the boot country's leading weeklies, Oggi. Probably the most lurid part of the whole affair: despite being owned by RCS – so it is one of the few media properties that Silvio Berlusconi does not own – it didn't have the coglioni to name names at first.
Di Cagno Abbrescia outed himself after the pics hit the web, telling daily La Repubblica that the pics were pop-up ads that "came up suddenly" while he was navigating a news site.
While he accidentally perused the prostitute pics, parliament was in session for a vote of confidence for Culture Minister Sandro Bondi, a fellow party member, who was under fire after the collapse of a Roman gymnasium for gladiators in the ancient city of Pompeii.
Insert joke about Nero fiddling, etc. here.
Via iPod Mania, La Repubblica