SAN FRANCISCO, MACWORLD 2011 — Macworld 2011 is in full swing. Even without Apple, the show is packed and there's a great vibe. The best thing is the people. Check out some of the many friendly faces and interesting products on the show floor.
Above: Cute girls in short tube dresses. Good thing are weather here is unseasonably warm! They are promoting MacKeeper and boy did they get a lot of attention!
Back booty shot of the booth babes. The booth number is right on their bottoms. It's a bit blurry because these girls were on the move. They covered a lot of ground because I saw them everywhere!
This guy was anything but bored (as his hat suggests) surrounded by shiny cases! Total eye candy.
I asked Darby from the angrydrunk.com to show me his angry face. Those anger management classes must be working!
A friendly face holding an iPad case.
This was the first of many iPad holders I encountered. This girl was super friendly.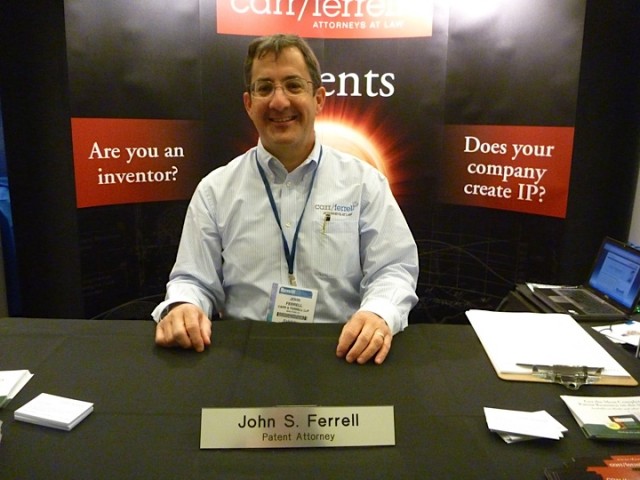 This clever Patent Attorney is ready to patent your great iPad carrier on the spot. I was surprised to see him at Macworld amongst the iPad accessories. Friendly guy even if he is an attorney.
Because I am a cheapskate this iPad sign caught my eye.
The Alphyn PADX-1 Ledge Wearcom allows you to wear your iPad. Keep it close to your heart!
This friendly fellow had on one of the few Hawaiian shirts on the floor. Somehow I recall seeing way more in previous years.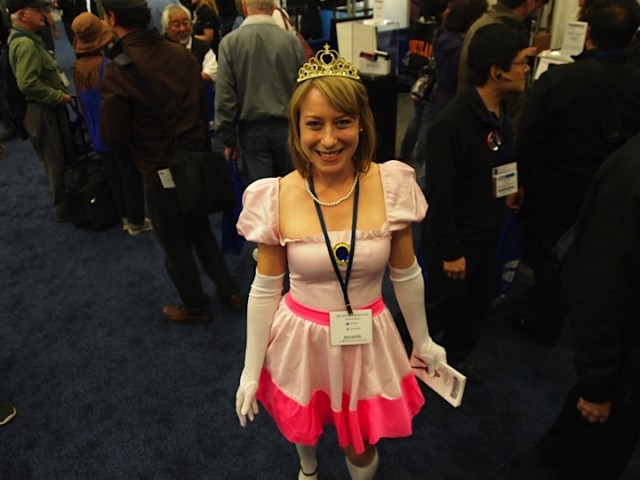 Cute princess promoting a crossover mac impersonator. Their booth had people in drag taking pictures with attendees. It was kinda weird but cool.
This lad had a lens pen for cleaning all screen. It worked well and I'm pretty sure that both of the ladies in this picture bought one.
This is Kelly from OtterBox. Their cases sell themselves.
These lucky girls are on a three day fieldtrip from Avery, CA. Their school is the first public school to do a one to one iPad learning program. Sounds too cool for school to me. Lucky kids!
This smart student who ditched school was trying to win a Macbook Air by covering himself in buttons. Free advertising for Data Savers. I hope he wins. He has a lot of gumption!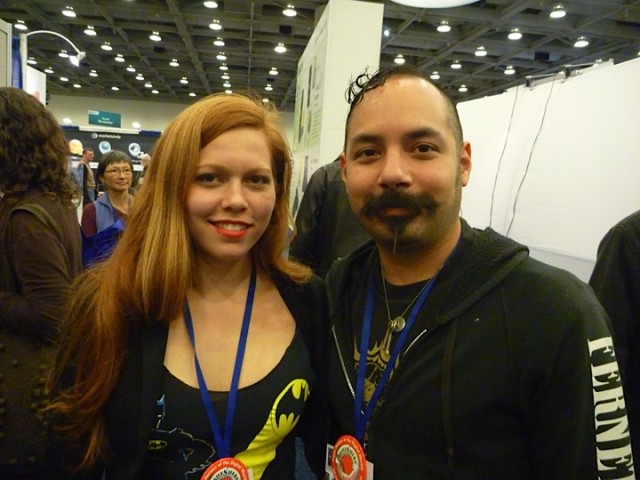 These two just looked hip to me. They probably know where all the cool parties are! In fact they are the party.
These two first time attendees were very happy to be here. They had a lot to take in.
Cute girls promoting their magazine MacTribe.
This chap was pretending to be interested in the 100th iPad holder he had seen but I think he had other interests.
Where my 3-D glasses at?
This is dee with his Off Tha Chain accessories for every devices. They are stylish and handmade. I should hook him up with the patent attorney!