t's time for yet another Monday iPhone App Giveaway brought to you by Appular! We'll be dropping A LOT of app codes like they're hot on the Cult of Mac Facebook page, and it's up to you to grab them first. We'll be dropping codes at a secret time tonight.  If you were in Reykjavik, Iceland at 2am on Tuesday morning and you checked our page, you'd be seeing the codes posted. So, do your research on time zones to figure out what time that is in your time zone.  It's best to Like us on Facebook so that the codes are immediately delivered to your desktop.
Special Thanks to Appular for helping us put together these app code giveaways! If you've got a mobile app that you'd like marketed effectively, contact the good folks at Appular!
Here's a look at the apps we're giving away:
Ramps is an addictive, pick-up-and-play physics game based on the 2007 original
enjoyed by nearly a million players worldwide. Position and rotate the ramps to guide
your ball into the goal, all while avoiding treacherous enemies and terrain!
Turning a fan-favorite genre on its head, the hyper-addictive Mad Skills Motocross plays and feels like no other side-scrolling racing game. The unparalleled physics engine and unexpected power-ups give you a level of control that you have to play to believe. Launch off an enormous jump, land on your rear wheel, hit the throttle, and leave your opponent in a spray of dirt—then brag about it on Facebook and Twitter! Mad Skills Motocross is fun for novices but deep enough for nearly endless competitive high-level play.
Burn the Rope is a challenging game where you try to burn as much rope as you can in
each level. There's a catch! The fire only burns upwards, leaving you to tilt and turn your
phone to keep your flame alive! As you progress through the levels, you'll encounter
bugs crawling along the rope. Different bugs have different reactions to the flame. For
example, the ant changes the color of the flame so you can burn different colored ropes,
and the spider shoots out a web bridge so you can access parts of the level that you
could not before. Burn the Rope is incredibly fun and addictive. You will actually feel like
you're burning a rope, yet there's no need for a fire extinguisher!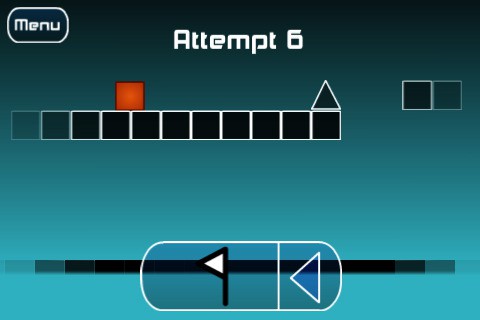 The best selling Xbox Live Indie Game comes to iPhone and iPod Touch – it's quite possibly the world's hardest game! With just one control, tapping the screen to jump, guide your orange square over spikes and jump onto blocks to get to the end of the level. Any mistake will result in instant death and a respawn at the beginning of the level. With an awesome soundtrack synced to the game you'll quickly become addicted!
Chop Chop Caveman awakes to a grumbling empty stomach and a deep craving for 
delicious dinosaur meat. Guide him on his daily hunt to seek out his breakfast, lunch,
dinner and a late midnight snack. To satisfy this caveman's carnivorous appetite, he will
need to devour pounds after pounds of Delectable Dinosaur Steaks, Tantalizing T-Rex
Ribs, Prehistoric Pug Sausage and any other exotic creature he may encounter… Are
you hungry enough for the challenge? … Rawrrrr!