Thank you to everyone who took the time to comment on this article and recommended other great iOS applications which help us to get fit. We've taken a look at all of the suggestions we've received and updated the article below to include a few of the great applications we missed first time round.

Did you promise yourself that 2011 would be the year that you would get fit? Are you having trouble sticking to your new year's resolution? Well maybe there's an iOS app that will make things a little easier for you. Here's our list of the best iOS apps that may help you succeed on your quest to get fit.
So that you don't just forget about your resolution by the end of January, we've compiled a great list of iOS apps that will help you stick to your targets and achieve your goals. We've divided them up in to the most popular resolutions, and in this post we'll look at the best iOS apps to help you get fit. We've chosen apps that will suggest great workouts and exercises, that will help track your runs, and those that will motivate you to get moving.
Check them out after the break and get help to get fit this year!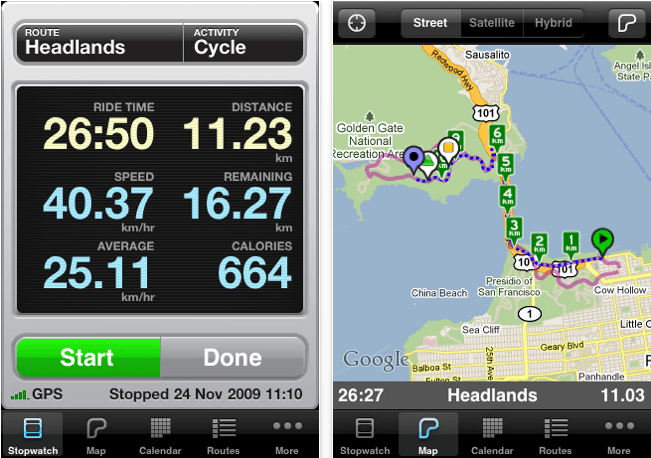 Cyclemeter GPS Cycling Computer – ($4.99) iPhone
Cyclemeter turns your iPhone into a powerful GPS stopwatch that provides you with the feedback and motivation that you need to push you further, make you faster, and improve your fitness and health. The application is a complete solution for tracking your workouts on your iPhone, and you can use it for running, cycling, walking, skiing, skating, and more. Continually record your time, location, distance, elevation, and speed while you're working out, and see your results over time on maps and graphs. Cyclemeter gives you audio feedback on your progress as you're working out, with 20 configurable announcements that can be triggered at time or distance intervals, or on-demand with your earphone remote. Share your stats and progress over Facebook, Twitter, and email, and hear replies from friends and family during your workout with Cyclemeter's innovative text-to-speech technology. Check out Cyclemeter in the App Store to find out more about its long list of features, and be sure to look up its siblings Runmeter and Walkmeter.
Endomondo – (Free) iPhone
Endomondo is a free application that makes tracking your workouts incredibly simple. It's minimalistic user interface is perfect for someone you wants to record and track their data without all of the complicated features some workout applications offer. Use Endomondo while your running, cycling, hiking, kayaking, skiing, and more, to measure your time, distance, and speed. The audio coach gives you feedback on your performance, and friends can send you live motivational pep talks while you're working out. All of your data is sent automatically to your profile at www.endomondo.com, where you can analyze your training, compete with friends in a variety on competitions, see your friends on the map while they're working out, and lots more.
iTreadmill – ($0.99) iPhone
iTreadmill is an award-winning application that has been described as "a pedometer on steroids." Packed full of features, this application uses your device's accelerometer to measure your step count, distance, calories, current & average speed & pace, your workout time, and strike rate. Record how much you worked out just by walking around the mall, count the steps you took around your home or office, or how far you ran on the treadmill at the gym. Unlike other applications, iTreadmill does not use the device's GPS, so it'll work even when there's no GPS signal, and it won't drain your battery as quickly.
Fitness Pro – (Free) iPhone
Whether you workout at home or at the gym, Fitness Pro can help you train more effectively, and with a library of over 450 exercises, you're guaranteed to find an exercise that suits your needs. The exercises are split up in to categories with a handy search feature to help you find the right workouts for you, and each exercise features a picture that shows you how to perform them correctly, with lots of information about your body and the muscles you're using with each exercise. Workouts are based on a weekly scheme in which you can add up to 7 different training days, all of which can be customized with your own workout plan from the exercises included. Fitness Pro helps you maintain a weekly workout routine, and its advances logging system helps you track your progress over time to keep you motivated.
Nike+ GPS – ($1.99) iPhone
Nike+ GPS maps your run, tracks your progress and gives you the motivation you need to go even further. With the app in hand, you can track every indoor and outdoor workout without the need for any additional sensors. Record your pace, distance, and the route you ran using the iPhone's GPS and accelerometer technology. See your progress over time and push yourself to go even further. Celebrate your best runs with fun, motivational messages from Nike's top athletes, and get voice feedback during your working on how you're doing. Quickly send each run to Nikeplus.com, where you can brag to friends, join challenges, set goals and connect with the rest of the Nike+ community. You can even broadcast your accomplishments over Facebook.
All-in Fitness – ($1.99) iPhone
All-in Fitness features more than 700 exercises for both men and women, including yoga poses with video demonstrations in HD. The app includes free support from professional coaches, a built-in pedometer, calorie counter, body tracker, music player, and a whole lot more to help you workout. There are 40 ready-made workouts to choose from, all compiled by professional fitness trainers, and you can create your own workouts in different modes. One of the most comprehensive fitness apps for iOS with something for everyone, no matter what your preference.
FitFu – ($1.99) iPhone
FitFu claims to be the easy way to get fit using your iPhone. There are three core principles of Fu: "perseverance, progress, and being friendly." Included are 8 simple exercises which include knee pushups, crunches, squats, dips, pullups, and more, and there are more to come in future updates. The motion detection feature uses the accelerometer in your device to count your reps out loud while you're working out – just like having your own instructor. Built-in social network support allows you and your friends to keep each other motivated and active – claim points each day from active friends and congratulate each other on your workouts. FitFu rewards you with points for being active, and you get bonus points for achieving a personal best. As you earn points you level up and unlock more exercises.
RunKeeper Pro – (Free*) iPhone *Free until end of January, usually $9.99
RunKeeper Pro uses the iPhone's GPS to track your fitness activity, giving you comparable results to an expensive GPS watch at a fraction of the cost. The app makes it easy to track how far you ran, how long it took, what your pace/speed was, how many calories you burned, and the route you travelled. Once your activity is complete, the data is synced to the RunKeeper website where you can view a history of all your activities, and cumulative totals of all your vital stats. Some of RunKeeper's great features include iPod integration that enables you to control your music within the application, time or distance based updates through your headphones during your activity, maps integration to see your exact route on a map, and activity sharing through social networking sites.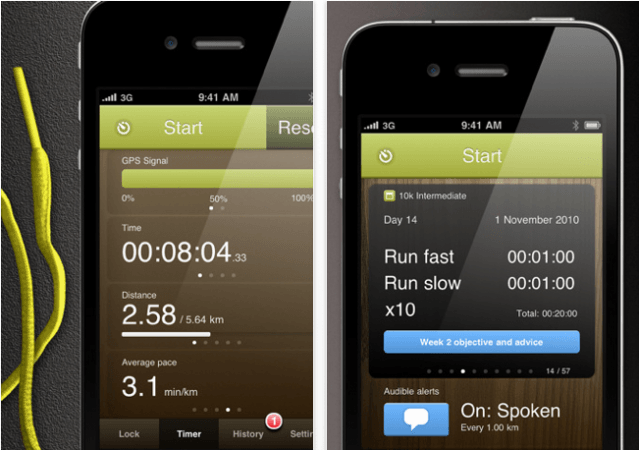 Kinetic – ($3.99) iPhone
Designed specifically to help measure and improve fitness, Kinetic is ideal for outdoor activities such as running, cycling, hiking, walking, and more. Effortlessly keep track of how long you've been working out and the distance you've travelled, and save your stats and workout data to create a comprehensive history of your training. Listen to and control your music within the application while you exercise and get audio feedback and alerts on how you're doing. Set and measure your own goals and personal targets, and track your achievements as you progress through your goals. With tons of features and a beautifully designed, intuitive user interface, Kinetic is a great companion for your workouts.
Couch to 5k – ($2.99) iPhone
Couch to 5k is a workout training coach that uses the 'C25K' system to help you get into shape. With a series of interval workouts that span over 9 weeks, you'll soon be able to get yourself off the coach and running 5 km (3.1 miles) without stopping or having to walk. Each workout is between 20 to 30 minutes, with a 5-minute warmup before & a 5-minute cool-down afterwards. You can alternate between intervals of jogging and walking in an increasingly challenging set of workouts, and receive voice prompts that tell you when you're halfway through, and again when you're nearly finished. The full program takes 9 weeks, however, you can start at any point. Keep track of each completed workout and review your progress over time.
Did You Get Fit With The Help Of An iOS App?
If you have used an iOS application on your iPhone, iPod Touch, or iPad to help you get fit, we'd love to hear your story. Leave us a comment and tell us about the application you chose and how it helped you to get off your couch and working out. We'll choose the best story to feature in a follow-up article at the end of this month.