Did you promise yourself that 2011 would be the year that you would lose weight? Are you having trouble sticking to your new year's resolution? Well maybe there's an iOS app that will make things a little easier for you. Here's our list of the best iOS apps that may help you succeed in your mission to shed some pounds this year.
So that you don't just forget about your resolution by the end of January, we've compiled a great list of iOS apps that we help you stick to your targets and achieve your goals. We've divided them up in to the most popular resolutions, and in this post we'll look at the best iOS apps to help you lose weight. We've chosen apps to help you track your weight loss, monitor your daily calorie intake, help you choose healthy meals, and more!
Check them out after the break!
Lose It! – (Free) iPhone
Lose It! for your iPhone enables you to set yourself goals and establish a daily calorie "budget" that's suitable for you. Stay on track by recording your daily calorie intake and any exercise you do, and easily see how much of your budget you've used up. The app features a comprehensive database of foods, with the calorie and fat content information for each, and you can add foods to the database that aren't already included. The average active Lose It! user has lost more than 12lbs, and more than 85% of users have lost weight. It's a completely free application that's packed full of great features to help you shed some pounds.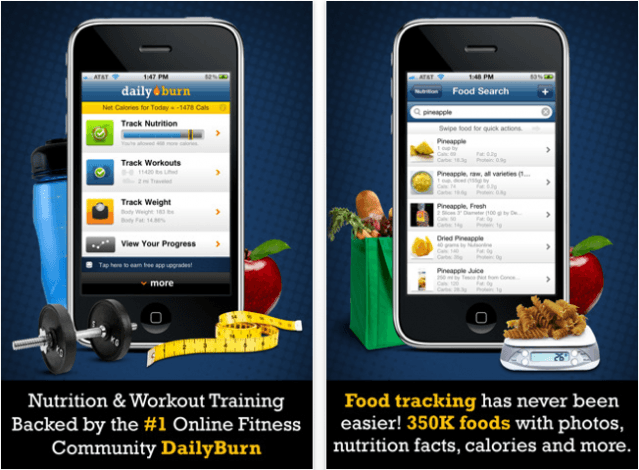 DailyBurn – (Free) iPhone
Another free application that's perfect for managing your diet, fitness, and exercise, combining world-class training plans with the best food and calorie tracking. Manage your fitness and health goals on your iPhone and your data is automatically synced to the DailyBurn website for more analysis and for tracking at your computer. It's the only application to feature a food scanner enabling you to use your iPhone's camera to scan a product's barcode for nutritional information, food analysis and more. DailyBurn is fully backed by the DailyBurn.com – the top fitness community on the web.
GoMealsHD – (Free) iPad
A great way to lose weight is by eating healthy. GoMealsHD is powered by the CalorieKing national database and allows you to search thousands of foods and dishes from popular restaurants and grocery stores to view their nutritional value, such as calories, carbohydrates, fats, and protein. Track your daily intake by saving food items to "Today's Plate" on the application's calendar. Everything you need to develop a more nutritious eating plan, and a better diet, is in this easy to use application.
My Weight Loss Coach – ($0.99) iPhone
My Weigh Loss Coach was developed with nutritionalists and supports you to take control of your weight loss. Track your progress and achievements, improve your energy balance, and feel better about losing weight. The app helps you create a personal profile and evaluates your improvement potential. The "input reward system" enables you to record your physical activity and track your progress over time, and the built-in pedometer will even keep count of how many steps you take each day. It's a great way to control your daily physical effort and balance your food intake accordingly. What's different about My Weight Loss Coach is it includes mini games with up to 500 fun challenges and 10 coaching sessions where you'll receive more than 160 tips to help you succeed.
Weight Watchers Mobile – (Free) iPhone
It's now more convenient then ever to connect to Weight Watchers from wherever you are. Get the latest recipes, health news, exercise info, and more. The app features the brand new Weight Watchers 'PointsPlus' program enabling you to view your daily points allowance and track the points values for your food intake and your physical activity. Record your weight and see the progress you're making in a simple, interactive chart. Get a brand new "Featured Recipe" daily, create shopping lists from recipes, find a Weight Watchers meeting in your area, and lots more.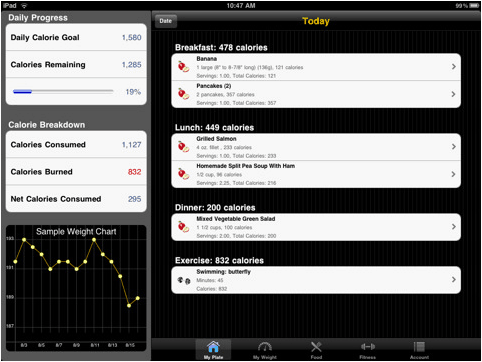 Livestrong Calorie Tracker – ($2.99) Universal
The Livestrong Calorie Tracker can help you reach your diet, weight loss and fitness goals by tracking your daily calorie intake and exercise. Lose weight easily by setting your weight management goals and tracking your calories and progress with the comprehensive online food journal, containing over 600,000 food and fitness options. Additional online features at Livestrong.com include support groups and forums for tips and advice with a variety of topics and expert Q&A.
Weighbot – ($1.99) iPhone
Weightbot is a simple but effective tool for tracking your weight. Set your goal, record your weight, view your BMI, and see your progress on simple graphs. Set your target weight and then record your weight on a daily basis to see how you're doing, then rotate your device in to its landscape position to view your weight changes over time in a graph. What's more – Weightbot will let you set a passcode to protect your data from being views by anyone else.
Did You Lose Weight With The Help Of An iOS App?
If you have used an iOS application on your iPhone, iPod Touch, or iPad to help you lose weight, we'd love to hear your story. Leave us a comment and tell us about the application you chose and how it helped you to shed some pounds. We'll choose the best story to feature in a follow-up article at the end of this month.