The run up to the festive holiday is great news for iOS gamers – with the App Store closed for submissions over Christmas, developers are working hard to ensure that their applications are approved and ready for purchase before Apple closes the doors. This means that a torrent of games have been surging in to the App Store over the past week, and to help you separate the good from the bad, here's our list of must-have games released over the past week.
Battlefield: Bad Company 2 has been a huge hit on games consoles for many months now, and thanks to EA, first-person shooter fans can now enjoy this awesome title on their iPhones. It features classic Battlefield warfare with intense single-player missions and online multiplayer that's guaranteed to keep you entertained this Christmas.
Teaser trailers and screenshots for Real Racing 2 have been popping up all over the place in the past few weeks, and Real Racing fans have been very much looking forward to the game's release. Firemint's second Real Racing title features officially licensed cars for the first time, multiple exciting game modes, and claims to be the most exhilarating racing experience on a handheld device.
N.O.V.A. 2 is the highly anticipated sequel to one of Gameloft's most exciting games for iOS. The ultimate sci-fi first-person shooter returns, boasting improved A.I., better online multiplayer, a larger range of weapons, and a whole lot more. If you're a fan of the first N.O.V.A., you won't be disappointed.
Find out more about the applications above and check out the rest of this week's must-have iOS games – including Sega's Altered Beast and EA's Ultimate Mortal Kombat – after the break!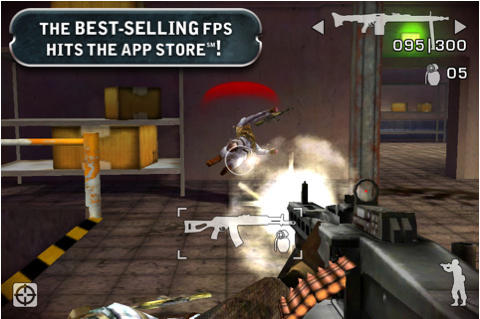 Battlefield: Bad Company 2 – ($0.99) iPhone – Games
Based on the bestselling console game from Dice, Battlefield brings intense warfare to the jungle, snow, and desert, in close-quarter combat and in the air. Take on 14 single-player missions across 5 incredibly detailed battle zones, wreak havoc on enemy forces with a plethora of powerful weapons and vehicles, and engage in online multiplayer combat across dedicated maps. The biggest first-person shooter to enter the App Store, and currently just $0.99 for a limited time.
Real Racing 2 – ($9.99) iPhone – Games
Take your pick of 30 officially licensed cars and get ready for the most exhilarating racing experience on a handheld device. Enjoy over 10 hours of gameplay in the massive career mode, with time trials, head-to-head races, eliminations, championships, and more. Featuring 15 beautiful locations with 40 miles of highly detailed race tracks, different control options to suit your style, and cutting-edge graphics powered by Firemint's exclusive high-performance Mint3D engine.
N.O.V.A. 2 – ($6.99) iPhone – Games
The ultimate sci-fi first-person shooter is back, and the second instalment of N.O.V.A. promises to deliver a whole new level of gaming on your iPhone. It promises new enemies with improved A.I., a larger range of weapons and powers, much more diversified gameplay, new locations, and graphics optimized for the Retina display. Featuring an unparalleled single-player campaign with 12 chapters and an intense online and local multiplayer mode.
Altered Beast – ($2.99) iPhone – Games
This ultimate Sega classic is now back in all its retro glory on the iPhone. Transform into a variety of beasts and fight off throngs of demons to rescue Athena from the evil Neff – just like old times. Battle 5 bosses and 17 different demons on your quest. Use bluetooth multiplayer to team up with a friend and take Neff down.
Ultimate Mortal Kombat 3 – ($6.99) iPhone – Games
The ultimate arcade fighting game is now available on iOS, with 13 classic warriors including Scorpion, Sub-Zero, and Sonya Blade; multiple game modes; customizable controls; and updated visuals intended to maximize the Retina display. 10 classic arenas await you in arcade mode, and you can challenge friends in merciless head-to-head battles via Wi-Fi and bluetooth. Relive the ultimate Mortal Kombat experience now on your iPhone.