In the immortal spirit of Nigel Tufnel, our 2010 Year in Review of the best in Audio gear and apps for Mac and iOS devices goes to 11.
If you missed any of these or didn't get a chance to check them out for some reason or another, don't fret — they each should be around to help you discover dulcet tones and make sound memories for a long time to come.
11. iDJ – iPad Music App ($9.99)
iDJ's music management system is a simple, streamlined way to quickly build club-quality playlists using the music in your iTunes library. With patented BPM detection technology, iDJ fuses your music together with the finesse of a professional mixmaster. As you add songs, iDJ analyzes their sonic-waveforms, calculates tempos, and then automatically performs optimal transitions throughout the playlist. Playlists can contain an unlimited number of songs and iDJ supports audio in WAV, MP3, and AAC formats. Plus, your iDJ library can be managed through iTunes. iDJ is the first true music-mixing application for iPad that both beginners and professionals can enjoy.
10. iPort Wall Mount for iPad ($499)
iPort's in-wall Control Mount for the iPad is one of the coolest things we've seen in home automation this year. The CM-IW2000 mounts an iPad in the wall of your home easily and with great flair — in either a portrait or landscape orientation. The mount provides access to the home button and screen along with constant power to the iPad. The power button for the iPad has been extended to make it accessible on the CM-IW2000′s frame. An iPad mounted in the CM-IW2000 can use third-party-supplied native iOS apps to allow for controlling audio, video, and lighting devices as well as the climate in your home while connected to a Wi-Fi compatible control system.
9. Sony Xplod Auto Stereo ($299)
With the easiest Bluetooth setup ever and seamless connectivity to your iPhone, Sony's Xplod car audio system with iPod/iPhone front end integration is a great aftermarket audio choice for your car or truck. This unit features a USB port on the front that charges the iPod/iPhone while also controlling music playback via the stereo's controls. Music can be selected by artist, genre, playlist and so on, with song info shown on the unit's 4-line LED display. A detachable faceplate flips down to reveal the CD player, which plays multiformat CDs (MP3/WMA/AAC), supports satellite and HD Radio, and of course, there's an AM/FM radio built in.
8. AmpliTube + iRig iOS Guitar interface ($59)
IK Multimedia's iRig and AmpliTube app combine an inconspicuous little dongle interface and excellent UI design to render gorgeously realistic images of real life stomp boxes and pedal effects on your iPhone, iPod Touch or iPad. The AmpliTube app features a chromatic digital tuner and metronome and allows users to import and play along with songs or backing tracks with real time effects. You can also create, save and recall up to 36 presets on the fly. The basic free version of the app includes enough to wet your appetite for tone, and the storehouse of additional amp configurations and effects that can be purchased in-app give AmpliTube a wealth of flexibility — as long as your musician hat has room for an audio-engineer's head inside.
7. Mikey2 Portable Stereo Microphone ($99)
The new Mikey2 from Blue Microphones, an external stereo microphone for iPod and iPhone, brings stunning clarity and flexibility to portable audio recording. With its three-way sensitivity switch, multi-directional swivel, USB pass-through and seamless integration with the iPhone, the Mikey2 and its dead-easy companion Blue Fire field recording software produce great sonic results with almost no effort.
6. iRealBook App for iPad ($9.99)
What lover of Jazz and improvised music would not go ga-ga over the iReal Book on his or her iPad? This collection of over 900 chord sheets of jazz standards, jazz classics, latin, Brazilian and pop classics is the ultimate resource for instrumentalists, soloists and singers. The app features piano, bass and drum play-along accompaniments, allows for transposing any song to any key in no time, and includes a built-in chart editor that lets users create original song charts or edit existing ones right on the iPad. All charts fit on a single screen so players can play and singers can sing and no one has to turn pages or flip screens. Possibly the best ten bucks you can spend on music in this or any year.
5. M-Audio Recording Studio + ProTools from Avid ($119)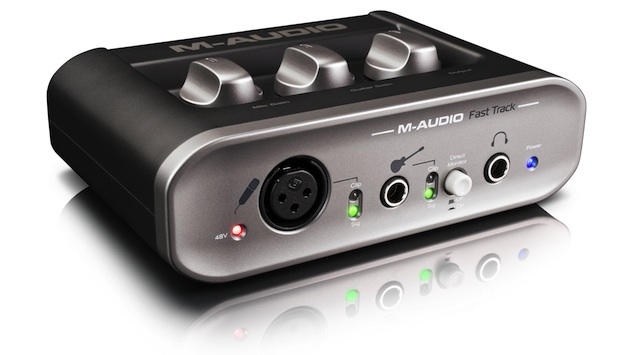 This diminutive USB device with balanced XLR and 1/4″ line inputs supports simultaneous recording of vocals and instruments in better-than-CD quality at 24-bit/48 kHz. Combined with Avid's included Pro Tools SE software, you can mix up to 24 tracks (16 audio tracks plus 8 virtual instrument tracks) using pro-quality effects — reverb, EQ, and guitar amp/distortion effects — making it surprisingly easy to create richly detailed and polished recordings right in your bedroom, basement or garage. With over 100 different virtual instruments and more than 3 GB of audio loops built-in, everything from mere ideas to whole songs can be produced on the fly and its included MIDI sequencing and score editing features provide professional-grade creative solutions to users of any ability level.
4. V Moda Vibrato Earbud Headphones ($129)
Possibly the ideal iPhone headset for the active, occasionally irresponsible urbanite. Designed from the ground up for durability with cables coated in braided fabric reinforced with Kevlar, which lends these buds pliability and strength uncommon for in-ear audio. Their sound is crisp and full for all ranges and the included remote and microphone work great for voice calls on the iPhone. Highly recommended to anyone who uses an iPhone as a primary audio device during exercise and enjoys the occasional run in the rain.
3. Sennheiser PX210 Bluetooth Headphones ($299)
There's no question the evolution of Bluetooth has been the happiest development in audio enjoyment in recent years. Getting rid of wires — if we don't discover in twenty years that Bluetooth somehow gives everyone brain cancer — it could be one of the most magical inventions of the millennium. So, take Bluetooth, marry it to the legendary sound quality engineered since 1945 by the geniuses at Sennheiser, throw in a little more secret sauce called aptx, an audio compression codec developed by other geniuses at CSR — and you have perhaps the sweetest sounding on-ear headphones you'll find for the money.
2. Neuhaus Labs T-1 Tube Amp ($495)
Because these days many people have their music collections stored on computers and/or external hard drives, Neuhaus' tube amps are not primarily designed to be connected to a CD player or turntable, but first and foremost to be hooked to a computer. With both a USB and an optical/Toslink plug, the T-1 easily plugs into a computer to convert AAC files and MP3s into the warm, rich sound associated with old analog gear. It's also got RCA jacks should you want to hook it up to your standard home audio gear, but it even goes a step further, adding Bluetooth connectivity to its audiophile-quality, combination vacuum-tube/solid state amplifier. The result is a hi-fi component that's plug-and-play with Macs and Windows PCs – and now iPhones and iPads. It produces the best sound you'll ever hear from your iPhone, ever.
1. Sonos Multi Room Sound System ($1200)
The Sonos Multi Room Sound System is a great, modern music system. With three S5 music boxes scattered about the house, connected to a wireless bridge and a wireless iPod/iPhone dock, all of which is controlled by a free iPad app, Sonos delivers big, roomy sound, literally filling space with music. Easy to hook up to iTunes or an iPod, it also seamlessly integrates with streaming music services like Pandora, Last.fm, Napster and Rhapsody. And It's great for internet radio.
So there you have it — eleven stellar examples of audio goodness descended on the world this year. Granted, not much of it is cheap but then, truly good sound never has been. Did you come across this year some great gear or apps not mentioned here? Tell us about it in comments!