Our must-have games list this week is packed with some huge releases that are guaranteed to be a massive hit in the App Store.
At the top of our list is Lego Harry Potter: Years 1-4, a brand new game from Warner Bros. that lets you experience Harry's first four years at Hogwarts in a wonderful world made of Lego. Based on the Harry Potter books and movies, you can play as Harry, Ron, and Hermione as you explore Hogwarts and engage in countless hours of enchanting gameplay.
Also among our favorites this week is the graphically impressive first-person rail shooter, Rage HD. This much-anticipated game casts you in the staring role of a post-apocalyptic game show in which you'll be stalked by hungry mutants as you attempt to survive each level.
UFC Undisputed 2010 is the only mixed martial arts video game that delivers the action, intensity, and prestige of the Ultimate Fighting Championship to your iPhone and iPad. Step in to the virtual Octagon and see if you have what it takes to be the ultimate UFC fighter.
Other games in our must-have list this week include Need for Speed Hot Pursuit, Astronut, and Star Battalion HD – check them out after the break!
Lego Harry Potter: Years 1-4 – ($4.99) Universal – Games
Experience the events of Harry Potter's first four years at Hogwarts – Lego style! – including the Triwizard Tournament, the Quidditch World Cup, the Basilisk battle in the Chamber of Secrets, and much more. Play as Harry, Ron, Hermione, and countless others in immersive 3D environments with graphics optimized for the Retina display. Featuring 40+ levels and a truly authentic Harry Potter experience in a wonderful, wizarding world – a fantastic game whether you're a fan of the films or not.
Rage HD – ($1.99) Universal – Games
In this intense first-person rail shooter, you're the star of a post-apocalyptic game show called Mutant Bash TV, in which you're stalked by hungry mutants desperate to feast on your corps. Scour three pulse-pouding levels in search of ammo and cash pick-ups, armed with a pistol, shotgun or machine gun, and battle your way through the mutant-infested carnage. Featuring impressive, high-resolution graphics, coupled with dynamic music and sound effects.
UFC Undisputed 2010 – ($6.99) Universal – Games
Step in to the virtual Octagon and experience intense, fast-paced mixed martial arts action with more than 25 of the best UFC fighters in the world. With unique and intelligent combat, competitive gameplay modes, extensive connectivity options, and access to the latest UFC news, UFC Undisputed 2010 is the ultimate UFC experience. Play tournaments or quick exhibitions, compare fight results with other players, share your game progress through social networks, and a whole lot more.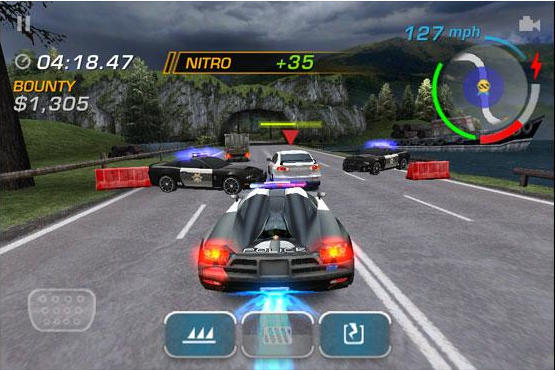 Need for Speed Hot Pursuit – ($4.99) iPhone – Games
The latest instalment of Need for Speed lets you feel the thrill of a cop trying to stop racers cold in high-speed pursuits, featuring 15 high-peformance police cars like the Lamborghini Reventon. Make the bust in 24 cop career events in which you start as a rookie, collect bounty, and progress to the top of the ranks. Take on friends 1-on-1 in cop vs. racer battles over Wi-Fi or Bluetooth in the ultimate cat-and-mouse road race. Race in a variety of stunning environments, experience epic takedowns, and witness insanely over-the-top crashes with eye-popping visuals made to maximise the Retina display.
Astronut – (Free) iPhone – Games
Let gravity be your guide as you blast off on a planet-hoping adventure of cosmic proportions. Explore uncharted galaxies, gather star shards, and avoid alien lifeforms during your quest to explore the universe and become the ultimate hero. Featuring 24 challenging levels across 6 different sectors, 40 unlockable achievements, Retina-optimized graphics, and Game Centre support.
Star Battalion HD – ($6.99) iPad – Games
You are an ace star pilot fighting against the militaristic Royalists who usurped your leader and spread fear across the galaxy. Lead the Resistance in a high-intesity space simulation filled with fierce action. Recruit your friends in the Resistant by playing Co-op multiplayer over Wi-Fi or Bluetooth, fly 4 different starships, each with a unique arsenal of weapons, and test your speed and reflexes in every challenging mission. Unlock achievements in Game Centre, experience space-age HD graphics, and use gyroscope controls to pilot your ship in to battle.