There are a number of reasons I like writing for Cult of Mac, but one of the most important reasons is the great readers, like you, we have visiting our site. Granted every so often you can be pretty vocal about the tiniest detail, but when you come through with some good comments they should not be ignored. Therefore when I found two comments about shopping at Apple in my first post about Apple Technology Will Make You A Savvy Black Friday Shopper — I just had to share them.
Apple Store App Don't Have it? Get it!
Reader, Charli, pointed out that we could use Apple technology to make our trips to the Apple store better. Charli pointed out that the Apple Store apps meet-up alerts (wait list) feature is really helpful. It can be used to queue yourself up to be next in line for assistance from an Apple Store Associate. You'll get a pop-up message on your iPhone to meet that associate at a particular location in the store. The app also identifies the employee by including their name and photo. As Charli points out this is a lot easier than trying to find the employee in a busy store.
I think that this would prove to be very handy during Thanksgiving weekend, which will be very busy. If you need something at the Apple Store show up, sign up, and rest assured you'll get the help you need once they reach your place in the queue. That sure beats standing around in a busy store hoping someone will recognize you as a potential customer.
If you don't have the Apple Store app on your iOS device get a copy here.
Be Savvy When Shopping for Apple Products and Save Money
Reader, Mark Blumenthal, mentioned his love for the local Apple Store — I love my local Apple Store too. There are a lot of good Apple fanatics like us working there. Yes I've been there to get my products serviced or shoot the breeze with the employees, visit with customers, etc. Unlike you I do purchase a variety of products from the store, but I liked some of your ideas.
As Mark pointed out in his comment you should be savvy shopper by considering your options when buying something especially big-ticket items like computers. He recommended mail order companies like MacConnection, but you could consider MacMall, Amazon, etc. In some cases ordering from a mail order company will help you save money by not having to pay local sales taxes and the product is usually discounted too.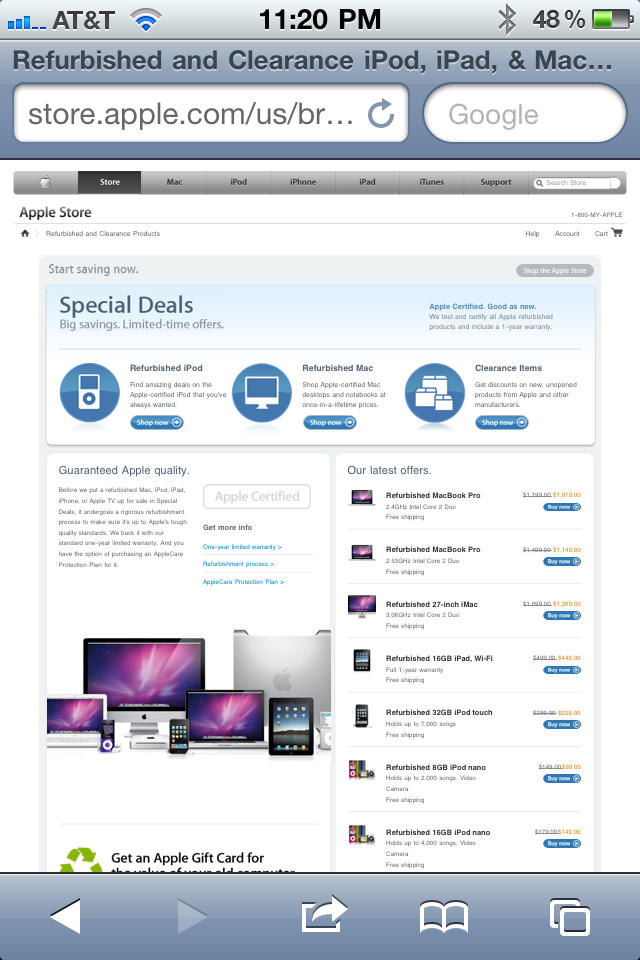 He also mentioned Apple's refurbished hardware sales from the online Apple Store and said, "Why pay full retail for anything? " Apparently he's been doing just that for a couple of decades and has been pleased with the results. I think that this is something you should consider since Apple refurbished products carry full factory warranty, cost less, and you can purchase an AppleCare extended warranty for them. A complete win-win for us as far as I'm concerned.
Check out Apple's latest refurbished deals.
So what do you think? Do you have any good ideas that will help us to be savvy shoppers? Tell everyone all about it by leaving a comment.