The Fashionista loves her fashion — she LOVES to shop and keeps up on all the latest styles and trends, and the most important thing to her is that it looks pretty. Here are some Fashionista-worthy gifts.
Jtote Alix Laptop Tote Bag
If fashion is her passion
The Alix laptop bag is crafted from Brazilian Nappa leather, and adorned with a chain necklace to give it just the right amount of bling. One would think a bag so beautiful couldn't be functional, but it is: An organized interior pocket system keeps the laptop protected and stores power cords, files, bottles and keys. It even has a secret zippered pocket for keeping the Fashionista's special items hidden.
The Jtote Alix Laptop Tote Bag is available from  Jtote for $278. in three colors.
Stylebook App
Never wear the same outfit twice!
Wondering what to wear to that all-important event? The Stylebook helps the Fashionista decide what to wear and when to wear it. Create outfits and decide when to wear them with a calendar. Use the built-in camera to photograph wardrobe or import favorite items. Super fun and a great way to waste time if stuck in a DMV office.
Stylebook is available from iTunes for $3.99.
Apple MacBook Air
Light as a feather, fast as a whip
We suggested the MacBook Air in the men's section, and there's no reason not suggest it here too — the MacBook Air is the perfect complement to the Professional's busy, mobile life.
MacBook Air is made by Apple MacBook Air 11 inch (64GB) is available from Apple for $999. MacBook Air 13 inch (128GB) is available from Apple for $1,299.
Janine King's MacBook Air Sleeve Bag
Trek that tech in style
The cutest bag ever! Designed for the new MacBook Air 11-inch laptop. Special foam core protects Apple's latest Mac from scratches and bumps. Provides extra storage space for power cords, iphone, keys or lipstick. The detachable shoulder strap allows for versatile carrying options.
The 11 inch MacBook Air Sleeve Bag Case is available from Janine King for $49.99 through Etsy in many designs.
Hearbeats by Lady Gaga Earphones
A Lady Gaga original design without the meat
Hearbeats designed by Lady Gaga are one-of-a-kind fashion for the ear. These earphones look cool and are designed to deliver the soundtrack of your life with clarity and power.
Hearbeats by Lady Gaga Earphones are available for purchase from beats by dr. dre for $149.95. in three colors.
Urban Tool ToteBag
Packing everything but the kitchen sink
The new toteBag by Urban Tool is stylish and functional. Made with organic canvas, this super tote has a space to hold just about everything, including a velvet lined slot for a 13″ laptop. Numerous slots and zippered pockets accommodate all the other stuff.  If the Fashionista is still confused as to where to put her stuff, a detailed map is included to let her know.
The toteBag is available from Urban Tool for $129.90 in two colors.
The Boomcase by Mr. Simo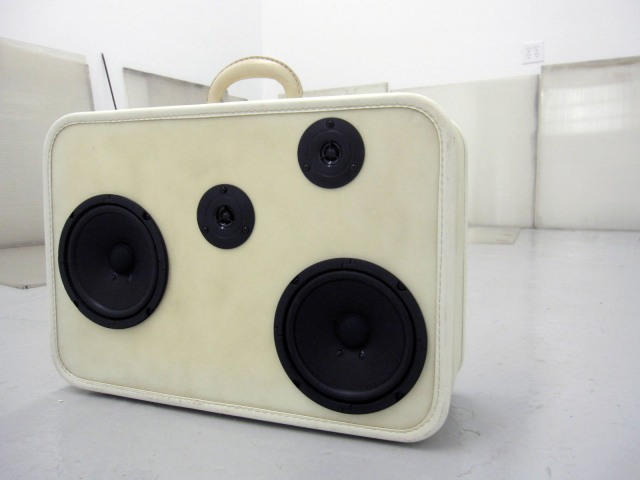 Take off packed…with sound
This cute, self-powered, portable suitcase-stereo system works with an iPod/iPhone or any device with a headphone jack. The cases are custom made with wood and leather to produce superior sound. The case will last seven-plus hours on a single charge. In addition to running on batteries, The BoomCase can also be plugged in when the party goes inside.
The BoomCase is made by Mr. SimoThe Boomcase is available fromBoomCase. The BoomCase Speakers are made-to-order, and start at $250.
Happy Owl Studio Clutch Red
The Crimson Carry-All Clutch
The clutch will keep the Fashionista organized from home to work to play and back. The red leather clutch with grey accents carries the iPad and so much more. Numerous pockets hold cash, credit cards, pens, an iPhone, a camera, lipgloss, keys, cords and even a MiFi. Did we forget anything? Nope. A super-organized gal is a happy gal; and the Clutch Red is stylish to boot!
The Clutch Red is available from Happy Owl Studio for $79.99.
Nikon Coolpix S80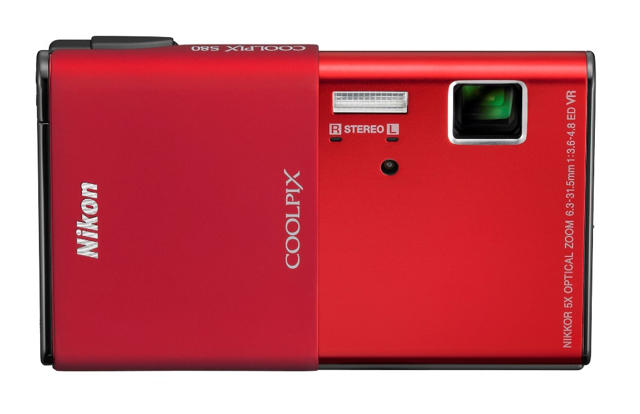 Take A Picture It Will Last Longer
High style meets high-tech with the ultra-slim, touch-control Nikon COOLPIX S80. In a variety of colors, the stylish Camera is as beautiful as the pictures it takes. What sets it apart from the rest is its creative image editing functions and touch control, which includes the ability to write or draw on the image.
The Nikon Coolpix S80 is available from Nikon for $329.95 in six colors.
Hard Candy Bubble Chrome iPhone 4 Case
Bling for the iPhone
The Fashionista will be styling at the club with the Bubble Chrome iPhone case. The sleek metallic polycarbonate shell has an easy slide-on design. Bubbles are the newest fashion trend, and the iPhone 4 is the newest must-have device.
The Bubble Chrome iPhone 4 Case is available from HardCandy for $34.95 in three colors.
Pogo Stylus by Ten One Design
Baby, it's cold outside
Winter is here, and so are the gloves — and it's nearly impossible to use the iPhone or iPad with gloves on. This is where the Pogo Stylus comes into play — sketch, type and navigate with greater precision. An included clip secures the Pogo Stylus to the iPhone and makes sure it doesn't get lost. The shiny colors will make the Fashionista very happy.
The Pogo Stylus is available from Ten One Design for $14.95 in four colors.