The Gadget Geek is a nerdy individual who loves his techy toys; he'd much rather stay home and play with his latest gadget than attend a social gathering. Here's our list of drool-worthy gift ideas certain to keep him geeking out for months.
Apple 27-inch iMac
27-inch screen induces crazy lust
The sexiest all-in-one computer has long been the iMac, and last year's 24-inch model was a beauty. But oh my Lord, the new 27-inch machine induces crazy lust. Look at the size of that screen!
The iMac 27-inch (2.8GHz) is available from Apple for $1,999.00
Aiptek 3D HD 720p Camcorder
Pocketable 3D video camera for James Cameron wannabees
This pocket-sized camcorder has powerful dual-HD sensors that captures 3D videos and stills; then upload your footage directly to YouTube with the built-in USB port. The Gadget Geek will appreciate that this is the only consumer 3D camcorder that records in HD. Comes with 3D glasses.
The Aiptek 3D HD 720p Camcorder is available from Aiptek for $199.00 in white or black.
Victorinox Flash 2GB Swiss Army Knife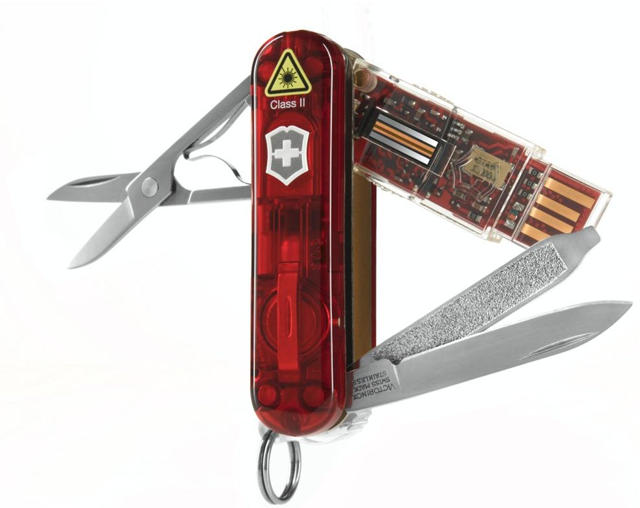 Get your geek on with this super-gadget
The Flash 2GB Swiss Army Knife puts a new spin on the standard knife by Victorinox. It still has the original tools like the blade and screwdriver, but also includes a removable USB flash drive. The Gadget Geek will also appreciate the retractable ball point pen and a LED mini white light.
The Victorinox Flash 2GB is available from Victorinox for $46.00.
Might Tees Steve-in-Sane T-shirt
The ultimate in geek apparel
This T-shirt will certainly be a conversation starter for the Gadget Geek. What does it mean? Who is it? The Steve-in-Sane T-shirt is made from organic cotton in a dark bluish grey. Only the clever will figure out that it's one part 20-something hipster Steve Jobs, one part David Bowie and one part 90's Apple rainbow.
The Might Tees Steve-in-Sane T-shirt is available from Might Tees for $31.99
iHome iA100 Bluetooth Alarm Radio Clock
Wake up fully-charged, with a fully-charged iDevice
Charge and dock your iDevice while you slumber. The iA100 supports charging, playback and app-enhanced communication for the iPad, iPhone or iPad. The Gadget Geek will drool over this impressive Bluetooth-enabled FM radio alarm clock.
The iHome iA100 is available from iHome Audio for $199.99.
ThinkGeek TK-421 iPhone 4 Case/Keyboard
Whip out that blog post with ThinkGeek's iPhone 4 case/keyboard
The iPhone's soft keys are great, but sometimes you just gotta have tactile feedback for those long blog posts or marathon Twitter sessions. That's where the TK-421 comes in — it's a case disguising a fully functioning keyboard. Also available for the 3G/s.
The ThinkGeek TK-421 is available from ThinkGeek for $49.99.
RaggedEdge Gear iGear Bag for iPad
An iPad case made from the same stuff as jet fighters and Formula One cars
This ridiculously light bag will almost undoubtedly outlast anything carried in it. It's made from the most tech bag material out there: carbon fiber. Its makers take carbon fiber sailcloth — the same stuff powering the fastest sailboats in the world — to create a hi-tech bag fit for hi-tech Apple gear.
The RaggedEdge Gear iGear Bag for iPad is available from RaggedEdge Gear for $160 in three trim options.
SMK Link PadDock 10 iPad Stand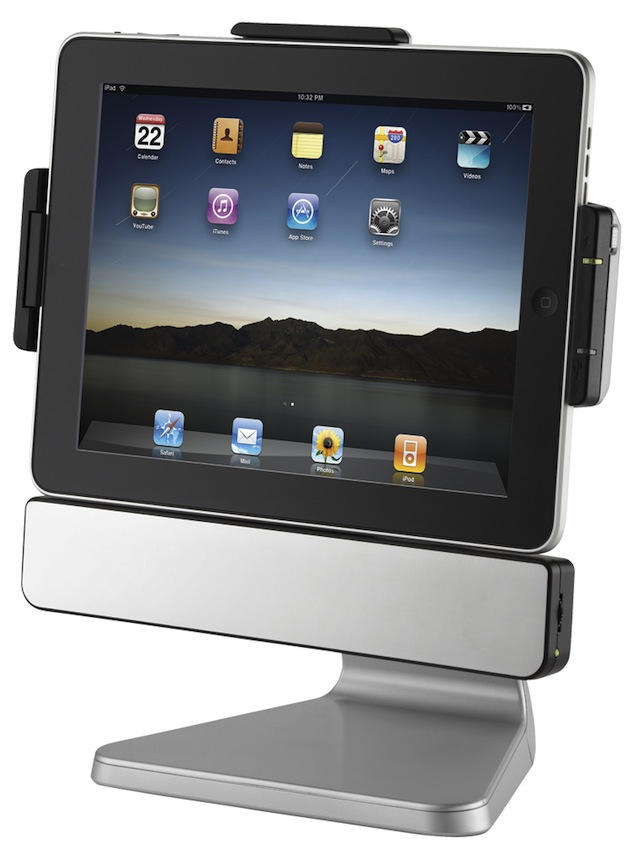 It's like a Starbase for the iPad
The PadDock 10  iPad stand is the ultimate iPad dock, with speakers, charging and syncing on tap. It also rotates 360 degrees. A switch on the side toggles between sync and charge modes.
The SMK Link PadDock 10 is available from SMK Link for $99.99.
JH Audio Jh16 Pro In-Ear Headphones
An entire room's worth of speakers miniaturized to fit in an ear
Your Gadget Geek would have to have been very good indeed this year to warrant these $1K-plus in-ear headphones, the only ones in the world to stuff eight tiny drivers in each ear. Think of the hours he'll spend marveling at both the technology and the unmatched sound! And it gets personal, because each set comes with eartips customized just for him.
The JH Audio Jh16 Pro in-ear headphones are available from JH Audio for $1149.
Star Trek Tricorder TR-580 App
The Star Trek communicator app boldly goes where no app has gone before
It really doesn't get much geekier than this. The fusion of Apple and Star Trek technology is a match the true Geek will recognize as being made in heaven. May prove too good a gift though, as one reviewer from the app's iTunes page illustrates:  "My wife is getting irritated, because I keep scanning the dogs, my coffee, my coworkers, her…"
The Tricorder TR-580 app is available from iTunes for $0.99.