This week's must-have iOS apps features a new application that allows you to have free, high quality video calls over both Wi-Fi and 3G. Tango Video Calls is free a application to download, and works on other smartphones as well as the iPhone.
PDF Expert for iPad is Readdle's latest application that delivers the ultimate solution for all your PDF needs on your iPad. It lets you read and annotate PDF documents, highlight text and make notes. You can also edit the documents you have stored on your Dropbox, iDisk, and Google Docs accounts.
PlainText is a free text editor compatible with all of your iOS devices that uses your Dropbox account to save your work. It has a paper-like interface that provides a nice, simple feel, and it's a great substitute to iOS's built-in Notes app.
Tango Video Calls – (Free) iPhone – Social Networking
If you're in to FaceTime video calling but you don't always have a Wi-Fi connection, then Tango Video Calls is a must-have download. It's completely free to use and offers high quality video calling over a 3G connection. You Tango contacts will automatically populate from your built-in iPhone contacts list, and it's not exclusive to the iPhone, so you can also enjoy video calls with your friends who own other smartphones, who you can invite by email or SMS.
PDF Expert for iPad – ($4.99) iPad – Productivity
Dubbed as the ultimate solution for all your PDF needs, PDF Expert for iPad is a full-featured application for reading and annotating PDF documents. It allows you to highlight import text as your browsing documents, add comments and notes, and underline important sentences for emphasis. PDF Expert will open attachments from your emails and allows you to edit documents stored on your iDisk, Dropbox and Google Docs accounts. Share the PDF files you've edited with your friends over email, or password protect them to restrict access from unauthorised reading on your device. See below to find out how you can win a copy of PDF Expert.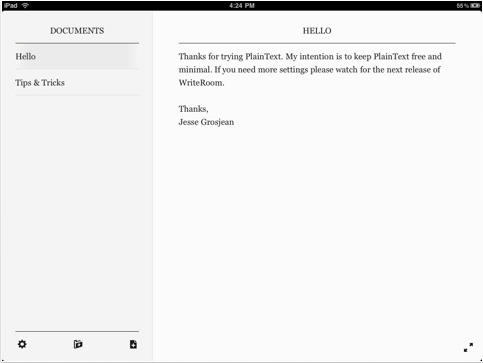 PlainText – (Free) Universal – Productivity
PlainText is the perfect application for creating and editing plain text documents on iOS. It uses your Dropbox account to save your work so that you can access it wherever you are. It's simple and easy to use and if you make lots of notes, PlainText is a fantastic substitute to iOS's built-in Notes application.
What's Your Favorite?
We'd like to know what your favorite app is from the past week. If you've found something that you find really useful, fun, or entertaining, let us know about it in the comments! Include your email address and the best suggestion will win an app code for Readdle's PDF Expert for iPad featured above!