Of the countless apps for creating stunning effects to your iPhone photos, the best ones have two things in common: ease of use and effects that are actually stunning.
Fuzion, an artsy double-exposure iOS app, aspires to be in that elite stable of must-have photo styling apps. Its developers should know relatively quickly if they have a hit on their hands when it launches Thursday.
The app utilizes the tech on the latest iPhones, tapping into the TrueDepth feature on the dual-camera iPhones, starting with the iPhone 8 Plus.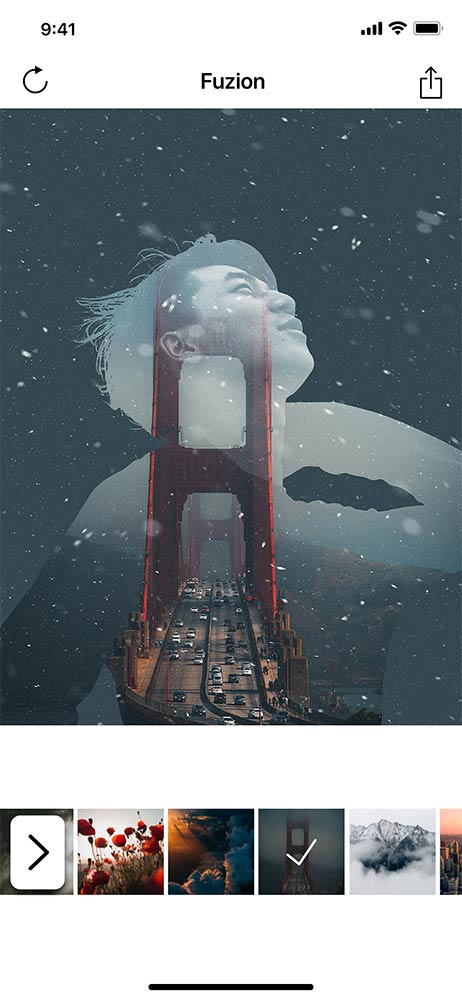 Portrait mode on the new iPhones makes a subject standout by applying a blurred mask to the background. Fuzion automatically identifies the silhouette of the subject and cuts away the background.
The user then chooses from a variety of backgrounds, including forested landscapes and urban skylines, to blend with the subject. The app also lets you add overlays of dust, light leaks and different colors.
Fuzion also works with your selfies.
The Fuzion website displays a variety of cool portraits made with the app. A demonstration video on the website will further entice iPhone artists to check out the free download (For $3, users can unlock additional effects and backgrounds).
Editorial comment: I hope Fuzion uses an update to allow iPhone photographers to create their own libraries of backgrounds, textures, and overlays.
Source: iDownload Blog