We are not hearing a death rattle from cell giant Nokia, but the company certainly is making noise as Apple increasingly invades once-safe territory. A prime example of the iPhone making a more competitive landscape is Europe, where the Apple handset is helping chip-away at Nokia's market.
According to a July survey by measurement firm comScore, Nokia's Symbian share of smartphones in the UK, France, Germany, Spain and Italy stands at 51.2 percent, down 14.4 percent since a year ago. However, Apple's iOS platform grew 5.3 percent and Google's Android smartphone platform rose 5.6 percent over the same period.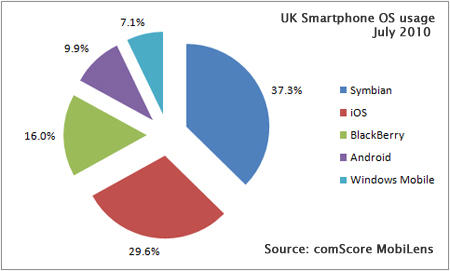 The iOS platform owns 29.6 percent of the smartphone OS market in the UK and 31.6 percent of the French smartphone market, according to comScore's MobiLens survey. Those figures are similar to Apple's share of the U.S. smartphone market, where it holds 23.8 percent, trailing BlackBerry's 39.3 percent.
No wonder a Nokia executive this week used anti-Apple talk as red meat at the annual Nokia World gathering. Niklas Savander, vice president of markets, said the Finnish cell phone maker has just one product to maintain its market-leading position. Noting 260,000 Nokia smartphones are sold each day, the executive said: "We didn't add software updates, or sales of music players and computers to that number."
At another point, Savander dredged up Apple's antenna debacle, saying Nokia's phones "perform day-in, day-out, no matter how you hold them."
Although the cell phone executive announced "Nokia is back," its reemergence will be under new leadership. Last week, Nokia said long-time CEO Olli-Pekka Kallasvuo will step down Sept. 21 in favor of former Microsoft Business Division head Stephen Elop.
[9to5Mac]