Philips wants to cover your home from the inside to the outside with its new lineup of smart lightbulbs that debuted today.
The new collection includes the smart vanity mirror that leaked last month and has a ton of new lights that are perfect for your bathroom, living room, bedroom, den or even the backyard.

Instead of just coming out with new Hue bulbs, Philips is instead focusing on creating a lighting brand. A lot of the new products don't even have replaceable bulbs and use LEDs.
Meet the new Hue lights
First up is the Adore mirror that can be controlled from your iPhone or iPad. It measures about 20 inches across and is surrounded by a white LED light that can be dim or bright. Priced at $249.99, the mirror is supposed to launch on August 20. There's also a new ceiling-mounted Adore light that costs $179.99 and has 30,000 hours of use.
Philips has a new suspension light called the Ascend Pendant. Designed for kitchens, living rooms and bedrooms, you can change the colors on it. It's priced at $149.99. The Ascend Collection also includes a $129.99 table light, floor light for $179.99 and wall lights priced at $99.
If you're looking for something on the cheaper end, there's the new Hue Enchant Pendant that can hang from ceilings and only costs $99.99. You can also go more upscale with the Being Pendant that runs for $249.99.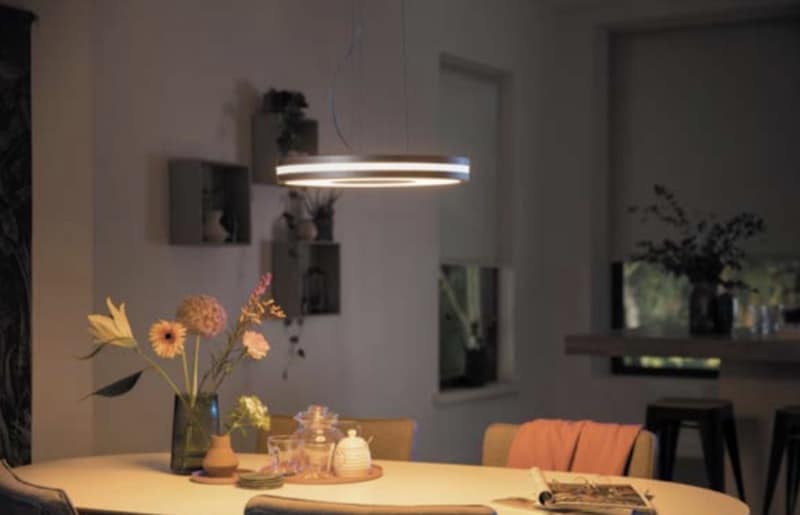 Philips also unveiled its new outdoor light strip. The strip is designed to withstand all weather conditions. There's a 7-foot model available for $89.99 and a 16-foot version for $159.99.