If you think there's a nagging sameness to the photos on Instagram, here's your Exhibit A.
It's an Instagram feed of collages that showcase the repetitive subjects and compositions of photos shared on the service.
Some of the direct copying that photographers and social media influencers do of each other's work proves startling. The mimicry becomes unavoidable when you come face-to-face with the photos grouped together by the anonymous curator of the @insta_repeat account.
"There is a lot of mimicry everywhere in media, not just on Instagram," the artist and filmmaker said in an interview PhotoShelter. "A purpose of insta_repeat is to critique originality in media creation through the lens (pun intended) of this one 'genre' of Instagram photography accounts."
insta_repeat calls out Instagram's adventurous copycats
That genre is "adventurers" and "explorers" — people who snap epic photos in the great outdoors. As an Alaska resident, insta_repeat's creator said she sees the same locations appear on different accounts over and over. Worse yet, she identifies a similarity in the way the various photographers shoot their images.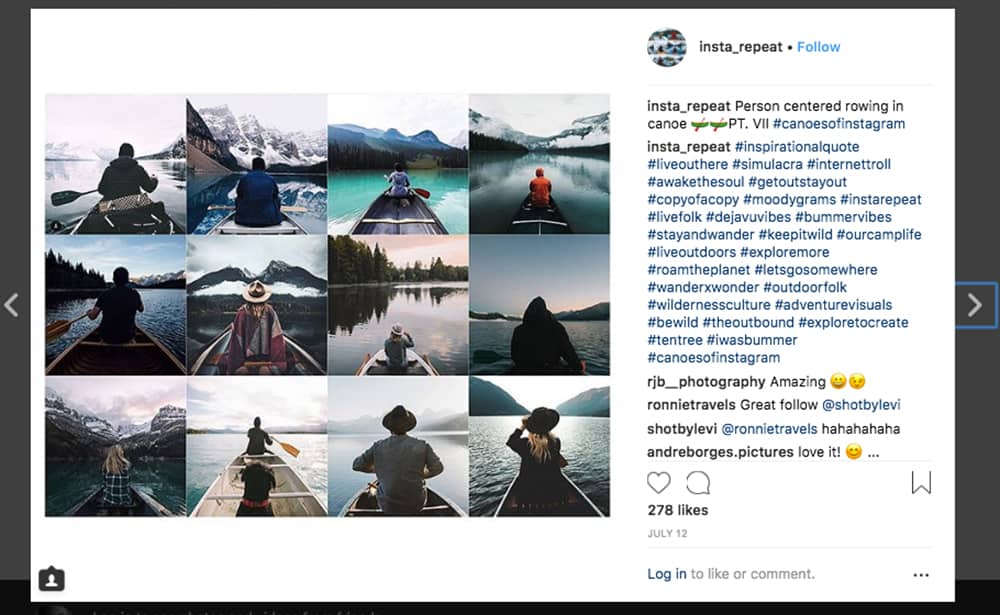 People upload more than 20 million photos to Instagram each day. Social media influencers — keenly aware of the kinds of photos that will draw likes — try to repeat a successful photo to boost their brands and bank accounts.
The person behind Insta_Repeat said it all started with the abundance of canoe photos she saw on Instagram. One collage shows 12 photos, all shot from the back of the canoe with a front paddler looking at some breathtaking horizon.
Others include a centered figure photographed from the back and wearing an "outdoorsy hat," feet dangling overlooking Arizona's Horseshoe Bend and the red cabins in Alaska's Hatcher Pass.
"I don't know how many times the red cabins … can be posted before people get bored," she said.
Each photo gets the photographer's credit in the form of being tagged and, thus, called out.
Adventure photography looks pretty same-y on Instagram
One defensive photographer accused Insta_Repeat of picking on the same group of photographers.
"Why not change it up and do a post about blogger girls who photos in a luxurious bath with flower petals," wrote @ryanresatka. "Uniquely original or not, at least these accounts inspired thousands, if not millions, of people to get off their asses and get outside."
Insta_Repeat currently has 78 posts and accumulated more than 13,000 followers. The bio reads: "Déjà Vu Vibes. Wander. Roam. Replicate."
The anonymous curator follows certain accounts, pulls screenshots and then sorts through them by category. She is struck by the irony of hashtagged phrases like "liveauthentic" and "exploretocreate."
She is sparking discussion, laughs and even positive feedback from some of the featured (caught, really) influencers.
"It's encouraging when someone can laugh at themselves and the game," she said. "It reminds me that we don't have to take our work so seriously. Every time someone gets into a fight in the comments section or someone that I feature that has a ton of followers comments (even when it is negative), I get a boost in followers…. I say keep it coming."
Source: PhotoShelter