If I was in control of the available categories in the iTunes App Store I'd place MiTube in the "Quick! Get this App!" category. MiTube is a free iOS app designed for the iPhone, iPod touch and iPad that allows you to download and save YouTube videos directly to your iOS device. If you haven't gotten your own copy of this app then use this iTunes link to get it now.
One you have the app you can use it to search for videos and then download them in various formats to your iOS device. You can select from different levels of video quality and later save the videos to your Mac or PC from within iTunes. There is no video encoding and you can pause and resume downloading if needed.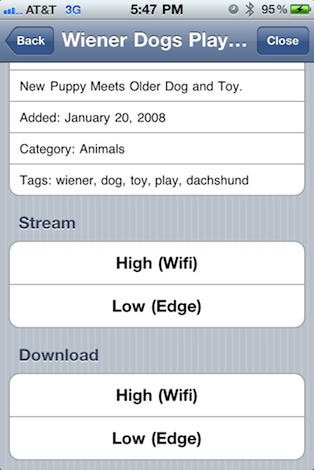 The app is pretty simple and straight forward. Users are leaving positive reviews for it, but there are a few reports that the app crashes frequently. I have not encountered that problem as of yet, but the apps own help feature lists some known issues about instability and crashing. These issues will probably be fixed in a future release and since it was free and unique this didn't faze me.
I'm also surprised that Apple approved this app since it closely resembles an app called MxTube available in the Cydia App Store for jailbroken iOS devices. If I were you I'd go grab a copy before Apple changes it's mind.
It might be too late however, since the developer has recently posted the following to his blog:
MiTube Short Lived

I just received a call from Apple Legal. MiTube will be taken out of the App Store within the hour. It's currently 33 in top free apps! All in less than 24 hours.

August 4th, 2010 by Max