If the iPad is considered a mobile PC (as Microsoft CEO Steve Ballmer views the Apple tablet), the Cupertino, Calif. consumer electronics company jumps from a seventh-place mobile PC maker to No. 3, according to Deutsche Bank. Adding tablet devices to the portable PC mix means Apple passes several more traditional notebook makers, the analyst says.
"When including the iPad as part of the NB [notebook] market, writes Deutsche Bank analyst Chris Whitmore, "Apple leapt over Asus, Lenovo, Toshiba and Dell in terms of global market share."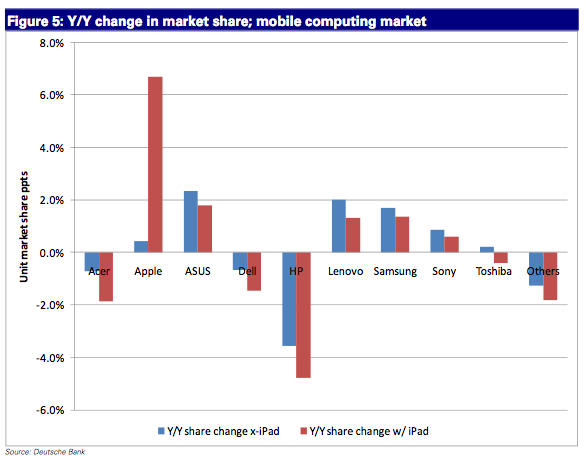 According to Whitmore, sales of Apple's iPad are increasing while demand for other notebooks slows. The iPad is "directly cannibalizing demand for other vendors' NB products," he adds.
If Apple is now seen as the No. 3 mobile PC maker, how long will it be before before the iPad maker threatens the likes of industry leaders Hewlett-Packard and Acer?