With hundreds of thousands of applications and games already in the App Store, and more and more added daily, it's often hard to notice some of the great apps that are available for your iOS device. That's where Cult of Mac's weekly must-have shortlist comes in: we'll compile a list at the end of each week to showcase a few of our favorites and pick out the best of the bunch. Check out this week's after the break!
Here's our top applications & games from the last week, in no particular order:
The Incident – $1.99 (Universal): With its cool 8-bit graphics and old-skool soundtrack, The Incident is a fantastic retro-style platform game for all iOS devices. Its unique gameplay requires you to tilt your device to dodge the downpour of objects falling from the sky while you ferociously jump to try and remain at the top of the mountain of things that soon build up around you. A simple, but incredibly addictive concept that will keep you entertained for hours.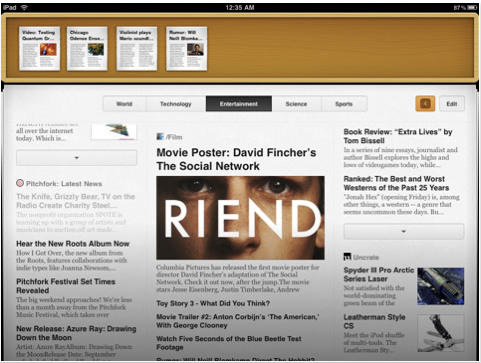 Times for iPad – $7.99 (iPad): Times is a popular RSS reader that some of you may be familiar with on the Mac. Now it's made its way to the iPad and it looks fantastic. It has a stunning user interface with customizable newspaper-like layouts and support for sharing articles via Twitter and Facebook. Its integrated web viewer allows you to click on links to view full articles within the app, and the 'shelf' feature lets you save articles to read later.
Madden NFL 11 by EA Sports for iPad – $12.99 (iPad): Winner of the Pocket Gamer Gold Award, Madden NFL 11 boasts real teams, real players and enhanced visuals that bring this outstanding game to life. There are 4 game modes including a head-to-head multiplayer option and a new unique 'GameFlow' control system that lets you choose your play without having to go back in to the playbook. This sports sim has received fantastic reviews and is by far the best football game in the App Store. The price tag might seem a little steep, but this is as good as it gets for football fans!
Pinball HD 4 iPhone – $1.99 (iPhone): The best pinball game on the iPad and winner of an Apple Design Award 2010 just made its way on to the iPhone. Pinball HD 4 iPhone features great 3D graphics, which look superb on the iPhone 4's Retina display, multiplayer gaming, 3 different boards, and a pinball experience just like the real thing. Play in both portrait and landscape for different camera modes, and compete for your place on the online global leader board.
Dunk – $1.99 (iPhone): Check out the latest uploads from designers, photographers and illustrators with Dunk – a stylish Dribbble feed browser that delivers a stream of content from the creative Dribbble community. Swipe through shots and uploads from everyone or just the people you follow, add players and tags to keep a track of the latest uploads, and check out player profiles and stats. Use Dunk to keep a track of your own stats if you have a Dribbble account, but if you haven't yet received an invite, use it to marvel at some great creative works.
CineXPlayer – Free (iPad): I was surprised when CineXPlayer was approved and made available in the App Store and I'm even more surprised that it's still there – I really expected it to be pulled soon after release. It's the first app to provide native playback of Xvid files on your iPad, saving you from converting your Xvid file collection in to MPEG-4 or H.264 format. Use the File Sharing function within iTunes to transfer Xvid files to your device.
Splode – $0.99 (Universal): From the makers of Dr. Awesome and Doom Resurrection comes Splode – a beautiful chain reaction game that requires you to tap on the cute little Splodes in the hope that when the explode, they blow up the other Splodes around them and set off a chain reaction that will turn night in to day. Each explosion brings a burst of color and music and makes Splode a delightful little game, and a bargain at under a dollar.
That concludes our shortlist for this week. Check them out and let us know what you think!