Omino is a simple platform game recently released for the iPhone & iPod Touch which claims to 'take you back to your childhood' with it's retro feel. It's clear from the screenshots that its similarities with the old Super Mario Bros. games is uncanny, but is it as good?
As a fan of the old 2D Super Mario games, I hoped that one day Nintendo would develop a title for sale in the App Store that would deliver Mario & Luigi to our iPhones & iPod Touches. Unfortunately however, they told Gizmodo a while ago that they can't imagine doing such a thing, so little platform games like Omino from NoName Games are there to feed our hunger for a simple 2D platformer.
Omino is a really nice looking game and features bright, pixelated environments and characters that really do take you back to old-school 16-bit platform games, with the help of the familiar sound effects.
The aim of the game is simple – make your way through each level by jumping from platform to platform to avoid the little monsters and the pools of water down below, whilst collecting as many coins as you can along the way. Finding the colored hats for your Omino, which are hidden in boxes throughout each level, will enable him to walk on water or fire at his enemies.
The best part about Omino is that it's a free download to begin with – you initially get the first 2 zones and then you can choose to purchase the rest of the game from within the app for $1.99.
Apart from the slightly over-sensitive controls that make it a little difficult to jump on to narrow platforms, or the heads of enemies, the biggest issue is the fact that there seems to be no way to complete the second level. I may be one of just a small few to have this problem, however it seems there is a certain point at which the platforms are too far apart preventing you from jumping from one to the other.
An App Store reviewer also seems to be having this issue:
The game cannot be played past level 2 (zone 1-2) because the blocks are too far apart, rendering the game unplayable.
UPDATE: Since posting this review, I have been contacted by the developer of Omino who has kindly informed me that it is possible to complete level 2. Somehow I didn't come across this beforehand, but there is a blue & red box before you cross the long pool of water where you can obtain a blue hat for your Omino which will enable him to walk on water (pictured below). Apologies to NoName Games for missing this!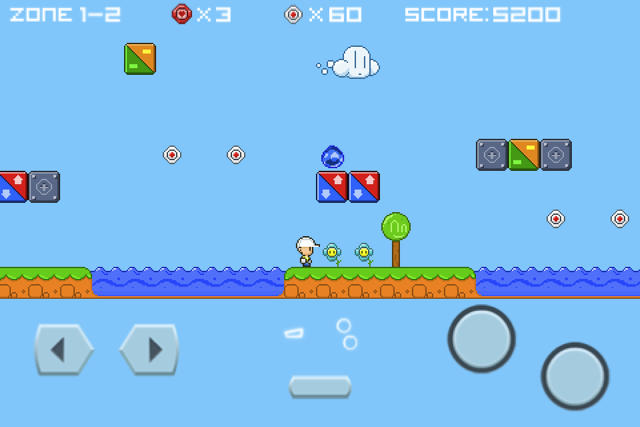 I think Omino has the potential to be a great game, and well worth the $1.99 price tag for the other zones. The controls could do with being tweaked slightly in order to be less sensitive, but you will get used to them. I recommend Omino to any fan of platform gaming.
To try Omino out for yourself, download it from the App Store here.