If you've ever lost a wallet, you'll know it's one of the most frustrating experiences. You have to cancel your cards, order a new driver's license, and sometimes you'll lose precious memories — like photos that can't be replaced. But you'll never have to go through that again with Woolet.
Woolet is a smart wallet that connects to your smartphone over Bluetooth. Every time you leave it behind, it sends an alert to your iPhone to remind you to go back and pick it up. It looks good and has plenty of space for cards and cash.
It's also available in a travel size that's big enough to carry your passport.
Smart yet slim and light
To be smart, Woolet requires some modern tech.
Beneath its fine Italian leather, there's a built-in ARM Cortex-M0 chip, a 150mAh rechargeable battery, wireless charging pads, a ringer for alerts, and a Bluetooth Low Energy chip. But despite all that, Woolet is still delightfully slim and light. Even after packing it with cards, it's never uncomfortably fat.
The standard Woolet has four individual credit card slots, a larger slot that will accept up to six cards, a hidden pocket, and plenty of space for bank notes. The Travel XL model has six individual card slots, a larger slot, a hidden pocket, an integrated mini pen, space for your passport or a small notebook, and a notes slot that's suitable for all currencies.
Both models are beautifully handmade in Europe from full-grain leather, and they feel terrific. The perfect stitching makes them robust and long-lasting, and combined with the neat engraving, demonstrates Woolet's incredible craftsmanship and attention to detail. They're wallets that will serve you well for years to come, and as they age, they look even better.
I've been using the Travel XL for the past month or so. It's too big to be an everyday wallet — you'll want the standard Woolet for that — but it's surprisingly compact for a travel wallet. It just fits inside the back pocket of my jeans when holding my passport and three cards, though I prefer to slip it inside my bag, where it keeps everything together so that it's safe and easy to find.
Woolet won't stay in pristine condition for long; its leather picks up scratches and scuffs pretty easily. But these only add to its character and make it even more attractive over time. It looks better with a bit of wear and tear than it did the day you opened it.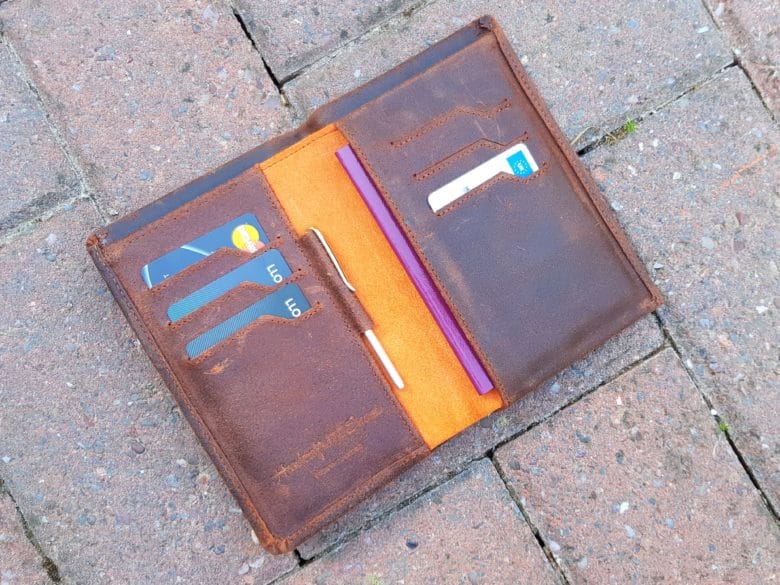 Modern magic
When you start using Woolet, you'll need to download the companion app on your iPhone (it's available on Android, too). This ensures you'll receive an alert if you ever leave your wallet behind. If you miss the alert, the companion app can show you Woolet's last-seen location on a map.
The app can also help you locate Woolet if you can't remember which room you left it in, or if you lost it in a messy room, by pinging its built-in ringer.
If you don't want Woolet to alert you when you're in certain locations, you can set up quiet zones. This prevents notifications from being delivered when you need your iPhone to be silent — like in the office. You'll get a notification when you leave the quiet zone if you forget to bring Woolet with you.
Woolet also offers a "Lost&Found" service with the Travel XL wallet. If you happen to find one that's been lost, you can scan the QR code on the Lost&Found card inside it and send a message to its owner to let them know you have it.
Its makers claim Woolet will last up to six months on a single charger before you need to top up its rechargeable battery. I can't testify to that because I've only been using mine for a month, but I can tell you that I haven't had to charge it since first setting it up, and the app shows I have around 80 percent battery life still remaining.
When Woolet does need charging, you can place it on top of any Qi-compatible wireless charging pad. Woolet offers its own that's covered in the same beautiful leather its wallets are made of, but third-party units work just as well.
Woolet is the wallet you want
Woolet obviously has its limits. If it loses connection with your smartphone, then it becomes impossible to track, which means the app can't help you if your wallet is no longer in the location you left it (for instance, it was stolen).
But you get peace of mind when you know that if you ever walk away without picking it up, you won't get too far without being reminded to go back and get it. And thanks to its incredible battery life, it's not a smart device you'll have to worry about charging every night.
Whether or not you have a tendency to lose your wallet, you should certainly consider picking up a Woolet. You're getting a terrific wallet made from gorgeous leather that will carry all the cards and cash you need without becoming too hefty, and you know it's going to last.
The Travel XL model is particularly impressive because it manages to pack so much into such a manageable size, and it's only $20 more expensive. But if you don't travel all that much and you don't need space for a passport or notebook, the standard Woolet is just as great.
Both are available in brown or black from the Woolet website.
Price: Woolet — $129 | Woolet Travel XL — $149
Buy from: Woolet