Artist Robert Sikoryak has a knack for introducing skittish readers to dense classic literature with comic book adaptions. Try Dostoyevsky's Crime and Punishment with a 1950s-era Batman with blood on his ax.
But would you consider reading Apple's terms and conditions user agreement for iTunes as a graphic novel — all 20,699 dry, legalistic words?
Sikoryak is meeting a few people who are game to read it while on a current tour to promote his unauthorized adaptation of the Apple document, Terms and Conditions: The Graphic Novel. It's an unabridged reprinting of the legal language that's made interesting by pages drawn in the style of 100 different cartoonists and artists.
The iTunes boilerplate legalese offers no plot or characters to love. That meant Sikoryak worked free from reader affections and expectations, though there have been plenty of people asking why he chose wonky legal language as a muse for his brilliant and quirky pastiches.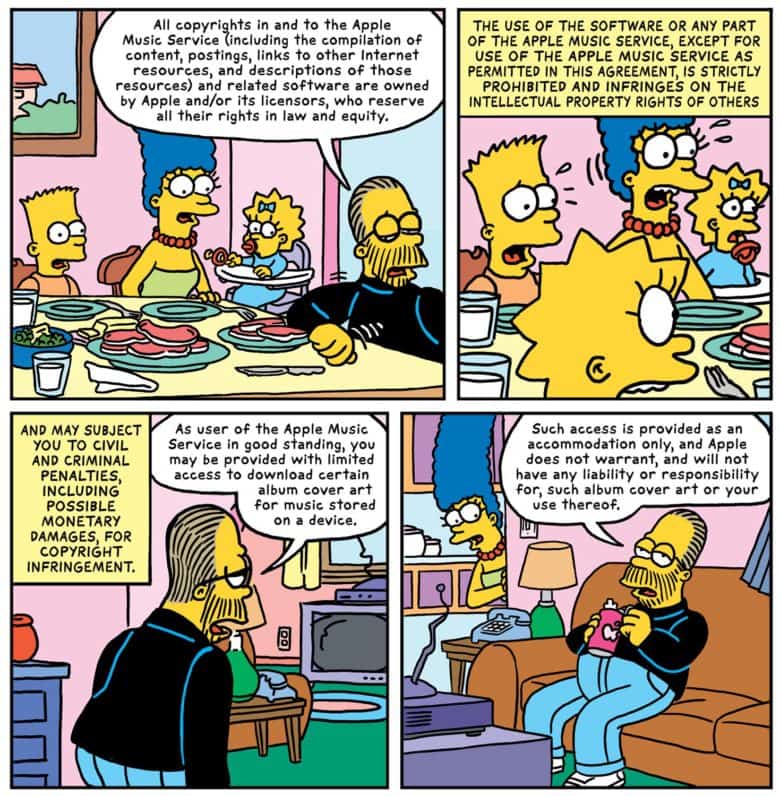 "No one asked me to do this," the New York City-based artist, who signs his work R. Sikoryak, told Cult of Mac. "Terms and conditions are infamous for being incredibly long, though it is certainly not as epic as Moby Dick. I like comedy and I thought it would be funny to do."
The graphic novel, published by Drawn & Quarterly and priced at $14.95, runs to 108 pages, each illustrated in the style of a different beloved comic artist. Older readers will recognize Peanuts, Family Circus and Blondie, while a younger generation will see Saga, The Simpsons, Garfield and even My Little Pony.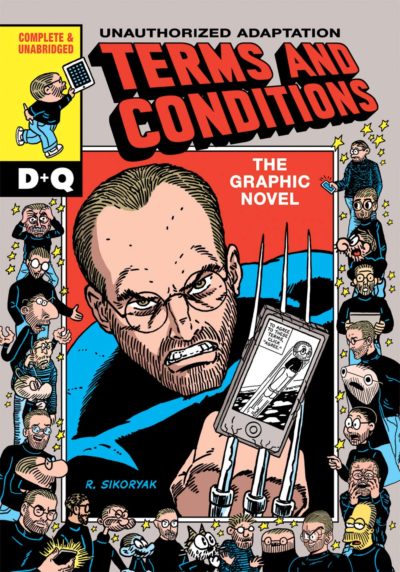 Jumping from an early 20th-century comic strip style to a 21st-century graphic novel feel in a single book might seem jarring, but the pages get unified by one character — late Apple founder Steve Jobs. His iconic look gets mashed up with dozens of beloved characters (Snoopy on one page, Popeye on another, the Wolverine on the cover). But he's always drawn with the round glasses, thin beard, black mock-turtleneck shirt, jeans and sneakers.
Sikoryak, whose work has appeared in The New Yorker, MAD, The Onion and Nickelodeon Magazine, is well-known in the comic world for how he brings familiar comic book characters and their artists' styles to famous works of literature. He's the author of Masterpiece Comics, which includes the Bob Kane-style Batman to send up Crime and Punishment, Dante's Inferno in a Bazooka Joe bubblegum wrapper comic, and Beavis and Butt-Head in a version of Waiting for Godot he called Waiting to Go.
Later this year, Drawn & Quarterly will publish his new work, The Unquotable Trump, a series of famous comic book covers featuring the 45th president "in his very best words" and some of his antagonists like Nasty Woman (Wonder Woman), the Black Voter (Black Panther) and the Hombre Fantasticos (Fantastic Four).
Sikoryak started the Terms and Conditions project in 2014, publishing pages on Tumblr. During that time, Apple twice made revisions to its interminable document, adding around 5,000 extra words between when Sikoryak began drawing and when he turned in his final book to the publisher in August.
That was just fine to Sikoryak, because the growing document allowed him to explore more artists he loved.
"I'm pretty sure Apple has seen it by now," he said. "The publisher ran it by their lawyer to make sure this constituted fair use. It's parody and satire and the work you use has to be transformed in the retelling. That definitely applies here.
"I'm a big Apple fan. I hope they like it. I think they will see a certain joy in the book that comes across."
He didn't purposely try to match certain comics or characters with the text, but certain passages organically juxtaposed with a comic panel. In one, a woman pulls away from a kiss with the speech balloon above her head filled with: "Apple reserves the right at any time to modify this agreement."
"Something struck me as I was putting the final book together," Sikoryak said. "Apple products are designed so beautifully and they are elegant and intuitively understandable to use. But the terms and conditions are a roadblock and are not the Apple aesthetic. It's not like there is hidden evil. I just think it's overwrought and cumbersome."
Like any author on a book tour, Sikoryak does readings and he is always pleased when fans not only show up but stay until the end. If illustrating the entire iTunes document was a feat of endurance, he will read Terms and Conditions in its entirety on April 5 at New York City's Dixon Place in an event expected to last three hours. Don't worry, each page of his book will be projected on a screen and the artist will be accompanied by live music and guest readers.
If you don't stay for the whole thing, he will understand.