I have been using OS 4 for a couple of months now. It's amazing how subtle changes can affect the way the whole operating system feels. From the unified inbox to the portrait mode lock, Apple really has taken their time with improving the iPhone experience.  I have been using OS 4 on my everyday iPhone 3GS (not recommended) and it's been quite a bumpy ride (especially when I lost my camera functionality) but using OS 4 everyday has been awesome.
Visual
There really are no dramatic visual differences between 3.1.3 and OS 4 other than the home screen. Visually, OS 4 feels a lot cleaner than OS 3. The improvement most people will like is the ability to set your own lock screen and home page wallpaper, just like on the iPad. The lock screen has always been customizable but the home screen default was just a plain black wallpaper. Now you can set it to whatever you want. Keep in mind to stick with a somewhat simple wallpaper. If you select too busy a wallpaper for your home screen, it might make it confusing to separate your app icons from the wallpaper. Another difference you may notice is with apps that use Location Services. You will now see an icon in the status bar letting you know when apps are using your location. This icon is commonly seen in apps like foursquare or Gowalla. This is Apple's way to let users know when there location is being used by apps.
Email
The best feature in OS 4 is the unified inbox. I didn't know what I was missing until OS 4 showed me the way. I can see every email in every inbox I have at the same time. With the addition of threading, the unified inbox truly is a nice experience that makes OS 4 that much more useful. The only thing you have to watch out for is when you add a new account, your email default will automatically change to the new account. Just be sure to change that in Settings before you go too far into your email experience.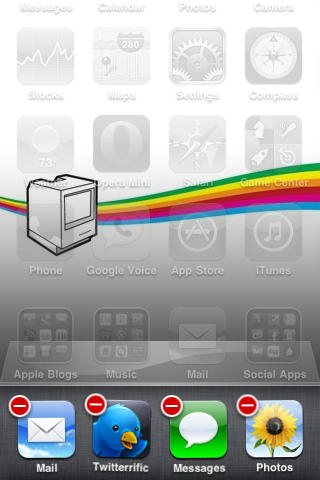 Multi-tasking
The feature I was looking forward to using the most is the one that no apps support yet. Apps built using the OS 4 beta are not allowed to be submitted to the app store. As of this writing, OS 4 is still in beta 4 and the GM release (Gold Master), which is almost identical to the final release, has not been distributed to developers. So multi-tasking has not really been tested out. You can kind of get the feel of it when you activate it with the home button but no apps support it other than Apple branded ones. Looking forward to using Pandora with multitasking but not expecting it to be better than the jailbroken experience.
Summary
OS 4 will not be the dramtic shift everyone is expecting but in a good way. Apple has done a great job making the user experience better and more streamlined without risking the new OS losing loyal iPhone users. There is no reason to not upgrade when the new OS comes out (unless you jailbreak of course; give it a few days).