Macphun, creator of sophisticated imaging software for Mac-centric photographers, has updated its new Luminar app to support the MacBook Pro's Touch Bar.
Luminar is all-in-one photo-editing software with more than 300 tools, include simple presets, to bring a finished style to the work of photographers of all skill levels. It was launched last month.
The new MacBook Pro, which Apple rolled out around the same time, surprised fans by eliminating the function keys at the top of the keyboard in favor of the new OLED Touch Bar that brings up tools of whatever app you are working in.
The Touch Bar now works with specific features in Luminar, including clone and stamp, noise reduction, crop and transform, and the erase tool.
While MacPhun was working on the update, developers improved speed and performance (and updated support for RAW files).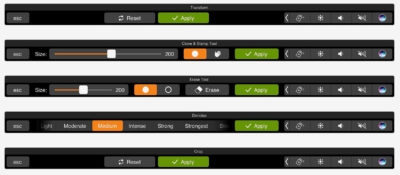 Luminar, which offers a range of creative filters, layers and masking, and various file import/export capabilities, is available for $49 for photographers who already own Macphun photo software and $59 for new users.
Macphun has been producing photo software since 2008. Advanced photographers appreciate the full range of tools in the Macphun apps, while less-experienced shooters intimidated by programs like Photoshop appreciate the one-click presets and slider bars that help them achieve stunning finished images.
Macphun has a customer base of more than 35 million users. Some of the apps include Creative Kit 2016 software suite, FX Photo Studio for special effects, Aurora HDR (for editing HDR photos),
Tonality for advanced black-and-white processing, Noiseless (for noise reduction) and Snapheal, a quick way to remove unwanted objects.