If you don't like using cases, you might be tempted to slap a skin on your jet black iPhone 7 to prevent its shiny surface from getting scratched. Here's why that's a bad idea.

Skins are usually a great alternative to cases because they protect your iPhone from scuffs and scratches without adding any bulk. They look good, too; you can get skins in a variety of different looks and finishes, like leather and carbon fiber.

But if you have a jet black iPhone 7, you should avoid them.

One user discovered that removing a skin from this particular model also strips away the writing on the back of the device — including the iPhone moniker, the FCC information, and the "Designed by Apple in California" slogan.

As explained in the video below, the SlickWraps skin that caused this wasn't even left on the iPhone for a prolonged period of time. The user found that their original wasn't applied as neatly as it could have been, so they swapped it out for a new one after just one week.

The skin doesn't completely remove the text, but it takes away enough that the bold iPhone name is "nearly impossible" to see.

This YouTuber isn't the only person with this problem. MacRumors reports that its forum is littered with complaints from jet black iPhone owners who have experienced the same problem.

"I had a normal protector on for about 1 minute and took it off," writes one user. "The writing peels right off."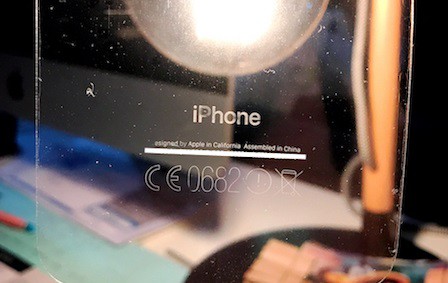 Of course, some might prefer this look, but it might make it difficult to sell your jet black iPhone next year when it's time to upgrade to the latest model. Fortunately, the problem doesn't affect the regular black, silver, gold, or rose gold color options.