I have been enamored with Urban Tool ever since I stumbled upon their booth at Macworld. The Austrian company sells a range of super-hip gadget bags, slings and holsters that are as unique as they are hip. Their bags have a modern and sleek look to them.
The company recently released a pair of carriers just for the iPad, the PocketBar and the SlotBar. They are not to be missed. Go ahead, release your inner hipster.
The PocketBar is a trendy holseter-style carrying case specifically designed for the iPad. Made from waterproof nylon and available in several colors, the PocketBar is lightweight and thin. But it holds way more than you would think.
The main pocket holds the iPad and zips tightly closed — good for keeping out thieving fingers on the subway. Four front pockets hold your iPhone, camera, wallet, pen and keys. It even has a back zipper pocket for items that need extra security. And in case you're confused on where things should go, Urban Tool provides a handy diagram to tell you. I love this: it's so thoughtful and useful.
The pocketBar can be worn on the hip or slung around the shoulder. There's an additional, removable strap to secure it around your body. You can purchase this bag on Urban Tool's website for $99.90. This bag is very well designed and you will get many compliments no matter how you choose to wear it.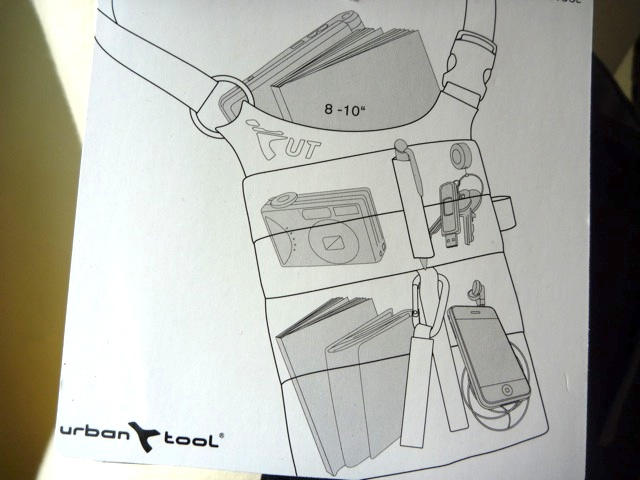 The SlotSkin
Urban Tool's other iPad case is the SlotSkin, a more traditional looking nylon-and-leather case. The SlotSkin is also by is an excellent way to carry around your iPad. It is not overly-padded with foam or tight-fitting, like most other iPad cases. It's roomy, but not too roomy. This bag holds much more than just your iPad.
Made from leather and high-quality nylon, the SlotSkin closes securely and easily with a zipper that circles the top. The retractable handle makes carrying around your iPad effortless. The back of the SlotSkin has two pockets to carry a wallet or phone. Like all of Urban Tool's products, the SlotSkin has a yo-yo key strap that is practical for key storage — and super fun to play with.
The SlotSkin can be purchased from the Urban Tool website for $59.90 in six different colors.