Forget political polls. The real horse race is in iPhone cases — and Donald Trump is dominating the field.
Whether it is the proud, orange face of Trump as Uncle Sam or a slogan that encourages others not to vote for him, The Donald is yuuuuuge.
"We can tell you the designs by Trump supporters and detractors are driving more sales of iPhone cases than any other candidate," says Diana Adair, a rep for online gift company Zazzle, which does brisk sales in political items during election seasons. "He's definitely getting a reaction from consumers who have an appetite for products that reflect their strong political viewpoints."
Like the back bumper on a car, the iPhone case is for some a place to broadcast their politics. And with the polarizing passions of this wild and woolly election cycle, companies are doing steady sales in smartphone cases that sport various candidates' faces or messages.
Political passions
CafePress says Bernie Sanders cases are better sellers than those featuring Trump or presumptive Democratic nominee Hillary Clinton; however, Trump merchandise of all varieties is outselling other candidates. Sanders' fortunes — or iPhone-case popularity — will likely shift if and when he officially drops out of the race for the Democratic nomination.
Sales of smartphone cases on the CafePress website account for about 1 percent of all political sales. The best-selling item? Old-fashioned yard signs.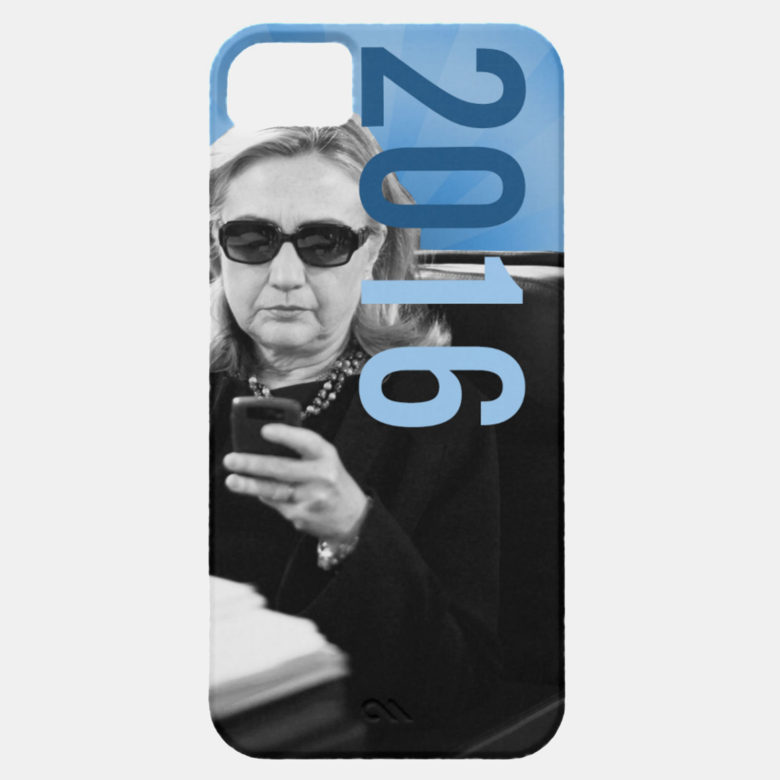 "The sales trends tend to mirror the news cycles," says Meghan Marshall, marketing brand director for CafePress. "If you think about the things you carry on your body, something like an iPhone case is a logical way to express ourselves. We walk around with our smartphones out all the time."
Accessories company Skinit also reports heavy Trump traffic.
"The Trump cases (iPhone and Galaxy) are selling more than any other candidate," Skinit spokeswoman Angela Lin says. "We also see sales of game-console skins, MacBook skins and bumper stickers as well."
But displaying political passions with something like a Trump iPhone case is not uniquely American. The gaudiest iPhone protector may be a gold case from a company called Caviar that bears the smug mug of Russian President Vladimir Putin, and also includes a map of the Crimean Peninsula. This is sure to be a hit with Russians who favor Putin's attempts to reclaim independent Ukraine.
Here are some more political cases, both sober and zany.