Google has finally updated its iOS app to include the Uber connectivity that Android users have had for like a week now.
It's not just Uber, but that's definitely the biggest ride-sharing company to get support in the new version. Users in Brazil, India, the UK, Spain, and Germany can also use their local call-a-car service of choice.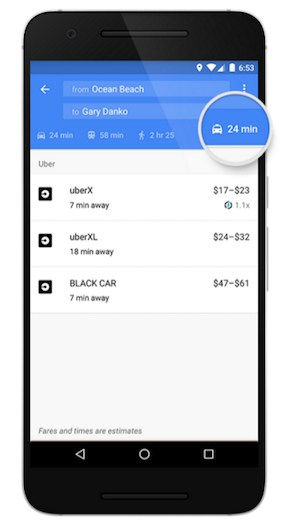 Google is working hard to make its apps a one-stop deal for everything people might want to do on their phones. We heard yesterday that the company is developing a digital iOS keyboard that will focus heavily on web searches, and Maps' new superpower lets you catch a ride without having to go back to your home screen. It's something that Apple's native Maps app just can't do and pushes Google's slightly ahead.
You'll need both the latest version of Google Maps and a service app like Uber to access the additional feature. Once you've signed in with both, you'll see an extra directions option at the top of the screen. A taxi-shaped icon will appear among the car, train, pedestrian, and bicycle icons, and hitting that will give you estimates for both how long you'll have to wait for the driver and your fare. If you tap on that option, you'll switch over to the Uber app to complete the order.
We're using Uber because that's what we have here, but Google is also teaming up with other countries' ride sharing apps.
"In addition to our existing global ride service partner Uber, with this update we're adding new providers across five countries: 99Taxis in Brazil, Ola Cabs in India, Hailo in the UK and Spain, mytaxi in Germany and Spain, and Gett in the UK," Google said in a blog post last week.