The Internet's reaction to — and riffing on — today's Apple event is more entertaining than the presentation was. We aren't even sure some people even waited for the company to be done breaking all of that news we were already aware of. We know we started doodling at some points. I drew a scary dragon.
Still, it's fun to see what people can do with even the most sedate of Apple events, and it's also nice to take a break from pasting our old posts into WordPress minus the phrase "according to rumors." We aren't actually doing that; don't worry. We're professionals here.
Professionals who can draw some badass dragons.
We honestly have no idea if this is a joke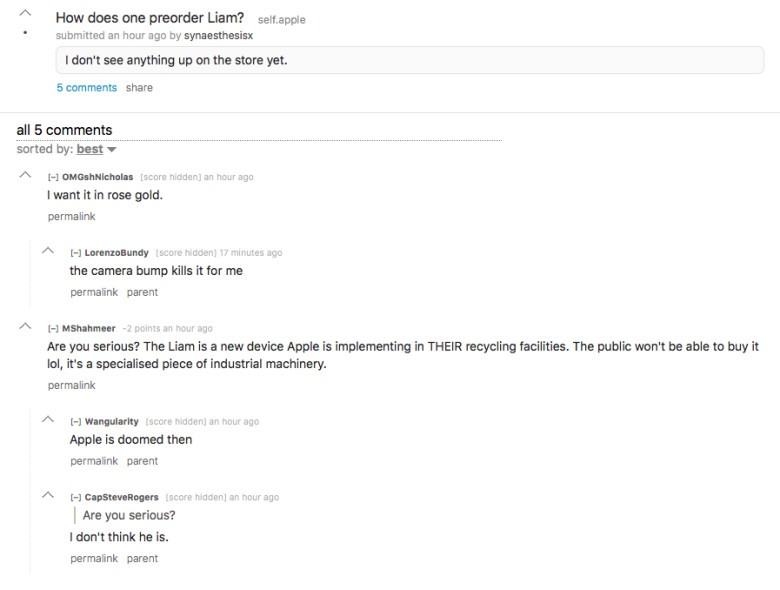 We really hope Reddit user synaesthesisx is just having a laugh here. But even if they aren't, the rest of the commenters on this thread are doing it for them.
The post starts with an innocent enough question: How can people get their hands on Liam, the cool robot that Apple showed off during today's presentation? Just one problem, however: Liam isn't a consumer-level device. It exists to dismantle iPhones for Apple's recycling initiative.
Whether the original poster just made an embarrassing mistake or not, the rest of the people are operating on the assumption that they did. And isn't that what the Internet is all about?
The most personal device yet
Don't worry — it's not a personal vibrator like last time. But Twitter user darth has come up for a version of the iPhone designed for one person in particular: Republican presidential hopeful Donald Trump.
"an iphone for every hand"#AppleEvent pic.twitter.com/V2Ql5vGY9z

— darth!™ (@darth) March 21, 2016
---
Trump has told anyone who could hear him — and plenty of people can hear him because he is very loud and often near a microphone — that his hands are of normal size. He's been doing this since February in response to a passing criticism from fellow candidate Marco Rubio, and Trump is still assuring people his hands are fine.
Really, though, it's funny that it's small
A 4-inch iPhone shouldn't be news. That's the same size as the iPhone 5s, and that just came out two and a half years ago (or "forever ago" in tech time). But Apple's apparent move backward has a few people making the quick size joke. Here are a few:
iPhone SE pic.twitter.com/ZVGDs4Xyga

— Scott Hanselman (@shanselman) March 21, 2016
---
iPhone SE got people with tiny hands everywhere like #AppleEvent pic.twitter.com/ueRjI67JRW

— Madison M. K. (@4evrmalone) March 21, 2016
---
wow harsh apple pic.twitter.com/OzzUxeVVVH

— Owen Williams ⚡️ (@ow) March 21, 2016
---
2012: A bigger screen
2013: A bigger screen
2014: AN EVEN BIGGER SCREEN
2016: A smaller screen heheh pic.twitter.com/zb3lNPtZ55

— Akshar (@AksharPathak) March 21, 2016
---
Using the iPhone SE after using the iPhone 6s Plus: #AppleEvent pic.twitter.com/P7DT0vufsF

— not Jony Ive (@JonyIveParody) March 21, 2016
---
iPhones have a powerful new enemy
We did really like the Liam demo, even if we can't put one in our houses so it can keep us company while it methodically dismantles all of our stuff. And we're pretty sure we have at least one appliance that would break it, so we'd also keep pretty busy.
But we're humans, and those weren't our guts up on that screen. We're pretty sure that the video looked pretty different to any iPhones that might have been watching.
Chilling.