The March 21 Apple event wrapped up earlier, and we have to say that for the most part, we saw that coming.
The company followed through on every rumor we heard that said it was going to put out smaller versions of its latest iPhones and iPads. It introduced new Apple Watch bands, including a Space Gray Milanese Loop, just like we'd heard. And it totally confirmed that the new versions of tvOS and OS 9 would be out today, which didn't surprise us at all.
But we did manage to fit a gasp or two between all those yawns. Here's everything that was actually surprising at today's Apple event.
Woven nylon Apple Watch bands (are ugly)
We knew the company was bringing out some new bands for the Apple Watch at today's event, but we weren't quite prepared for how they'd look.
Don't get us wrong — the Bond-esque, Space Gray Milanese Loop looks pretty great. But the "real" reveal, an assortment of straps in woven nylon, didn't win us over. Maybe it's the pastel colors, or maybe it's the texture. It's also possible we just don't like nylon as an accessory fabric. But that's fine; Apple Watch is about providing owners with plenty of options. This is just one we probably won't be taking.
True Tone display looks like a killer feature
The 9.7-inch iPad Pro's True Tone display was a double surprise. Firstly because we didn't see it coming, and second because we didn't know why we were suddenly so excited about it.
True Tone matches the iPad Pro screen's output to match the light temperature of the room. That means that instead of just blasting out whatever color it's showing, it will "reflect" its environment. The comparison Apple used was a white sheet of paper reflecting the light that hits it. True Tone will simulate that to keep the contrast between your screen and your room low.
Why were we so pumped? We honestly couldn't tell you, but it sounds really good for our eyes.
The iPhone SE isn't going to cost you a kidney
We've been covering Apple long enough to brace ourselves whenever the company brings out a new product. The stereotype that Apple gear is expensive is well-earned, so we're used to preparing for a bit of whiplash every time an executive on a stage says, "What does it cost?"
Shockingly, however, the 4-inch iPhone SE, which has the brains of an iPhone 6s and the body of a 5s, wasn't that painful. It'll launch on March 31 at $399 for 16GB of storage and $499 for a 64GB model. That makes it cheaper than an iPhone 6, which positions it perfectly as a powerful, entry-level iPhone for new users and converts.
iPad Pro has ridiculous storage levels
We suspect someone has made a mistake somewhere when one of the most amazing reveals of an Apple event is that things will hold more stuff, but here we are.
The company dropped a relative bomb when it announced that both the 9.7-inch and 12.9-inch versions of the iPad Pro were going to have versions with 256GB of storage. We aren't entirely sure what we'd do with that much space, but we suspect that if you're a designer, those Photoshop files and blueprints or whatever might start to add up.
Damn, this Apple event was quiet
This was the most low-key Apple event we've ever seen, and we don't think it was just because we already knew most of the stuff the company was going to talk about.
Maybe it was the venue, or perhaps it was the fact that the company spent the first part of the briefing showing us a slideshow that included yaks grazing, but it was all pretty sedate. And the audience seemed to feel it, too; someone in the Cult of Mac crew suggested that Tim Cook was the one starting all of the rounds of applause to prompt viewers when to give it up. It was like he was perpetually that one guy standing in the crowd at the end of the teen movie, observing the "Perfect Moment."
'Let us loop you in' meant nothing. At all.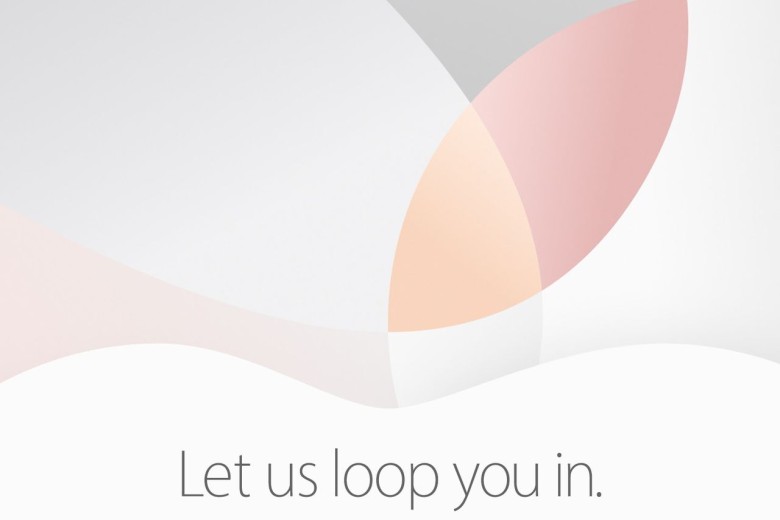 We had a few guesses about the strange wording on the invite for this event, but nothing could have prepared us for the truth. And that's because the truth was that it didn't seem to relate to anything in the presentation at all.
We got some passing references, like that new-colored Milanese Loop we were so excited about, but at no point was anyone like, "After years of trying, we're pleased to announce that Apple has reinvented the loop." And that's really what we were waiting for. And it didn't happen.
At the end of the presentation, when Tim Cook said goodbye to the Cupertino Town Hall and said that future events would be in the fancy new auditorium at the new Apple Campus, we perked up a little. Maybe he was going to announce that the address of that place was going to be 2 Infinite Loop or something, which sounds way better than its current designation, which puts it on Pruneridge Avenue.
But sadly, Apple denied us the loop revelation it had promised, and so we leave today's event slightly disappointed.
That True Tone display, though. It looks rad.