On a recent episode of The App Factor podcast I got into (or rather, confessed) how many apps were on my iPhone prior to me having to start from scratch and install the OS and apps fresh (for what it's worth, it was 750+ apps).
While I try to use my iPhone and iPad for a number of things including writing, catching up with friends and more, a lot of times I'll want a quick fix or even an in-depth game to play.
After having to install apps from scratch and picking up a new iPad Pro, a few games made the cut while I thought what I really wanted to install and play. Here are a wide variety of games that I love. From new games to classics, these are some of my favorites.
Alto's Adventure
Alto's Adventure has become a favorite of gamers who love endless runners and want to try just one more time to beat their highest score. Like a common favorite of Ally's and mine, TinyWings, Alto's has a range of weather and visibility conditions (due to the time changing) as you snowboard down a mountain.
The game lets you pick different characters and power-ups, and gets increasingly difficult and faster as you move along. I may have played this for a whole plane ride recently.
Other great endless runners – Jetpack Joyride, Canabalt, Tiny Wings
---
Retro City Rampage DX
I'm so glad that Retro City Rampage DX has finally come to iOS. Now available on iPhone and iPad and originally available on other gaming systems including the Nintendo 3DS, RCR is a top down 8-bit style Grand Theft Auto-esque game with loads of references to other games and lots of inside jokes. Not only does this game bring back memories of NES and SNES titles, it also has a time travel component to the story. Win-win!
---
Minigore 2: Zombies
The original Minigore was one of my first favorite games for iOS. Minigore 2 has you playing John Gore as you use one stick to move and the other to shoot hordes of enemies and bosses. The developer Mountain Sheep was one of the first (like Crossy Road) to allow you switch your character and buy additional characters as an in app purchase. This rolled over to two other games of theirs which I thoroughly enjoy, Ice Rage and Bike Baron. If you're in the mood for a shoot-em-up, you can't go wrong with the Minigore series.
---
Rymdkapsel
I kept hearing about Rymdkapsel from Federico Viticci, and one day I ended up playing the game for hours. It has become one of my favorite games to sink some time into. It's a puzzler/strategy game where you try to grow your space station, and choices you make early on can end the game for you quickly. The graphics are basic, but engaging, and this game gets addicting quickly!
Bonus: The dev, webbfarbror AB just came out with another fun puzzler in twofold inc. Check it out here.
---
Oceanhorn
My favorite game of all time has to be the Legend of Zelda for the SNES. Ever since iOS has come out, Zelda clones have popped up everywhere. My favorite is Oceanhorn, which you can pick up on iOS and even on the Apple TV (with iCloud sync!). If you're familiar with Zelda, this game is sure to bring back memories, with a beautiful design to boot. You hack and slash your way to different lands with a character that looks reminiscent to Link and the story is a lot of fun. If you love the look of Nintendo made games, you'll love Oceanhorn.
---
Surgeon Simulator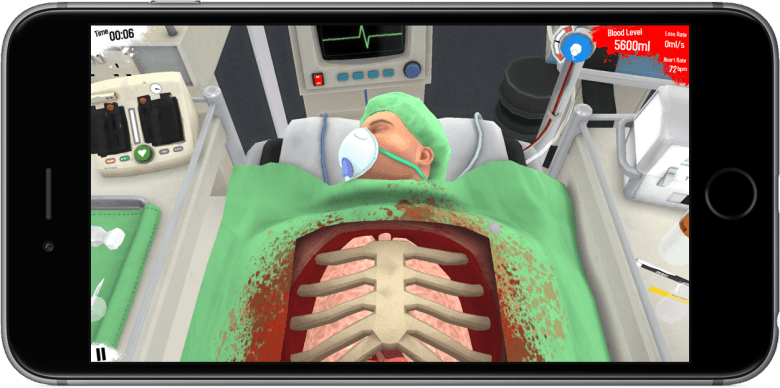 Out of all the simulators that are currently on the App Store, Surgeon Simulator has been my favorite. Think of it as the classic board game Operation, but with a whole lot more blood and guts. You practice different procedures on everything from humans to aliens, and the mechanics are difficult to master. If you're looking for your nerves to be tested, this is the game.
Other great simulators games – Goat Simulator, I Am Bread, Farming Simulator 16
---
Bastion
I've talked about Bastion quite a bit in the past. I originally played this game on the Mac, and now Bastion has brought console quality gameplay to iOS. The story is great, the graphics are gorgeous, the soundtrack is fantastic, and it has an overall eerie vibe to it. If you love RPG's, this is a great place to start. The game has won tons of awards, and I did a piece a couple of months back with the creator of the soundtrack. Check it out here. Also check out another great game from this dev, Transistor.
---
Desert Golfing
Desert Golfing looks like it could have been made for an early Atari System. You golf in a vast desert, where the levels seem to go on forever, and it's very relaxing. Every once in a while you might see a palm tree show up. I'm not sure if this game ever ends, as I've seen other players be in the 5,000 of levels, but I'm going to keep playing.
Other great zen-like games – MTN and Please Don't Touch Anything
---
Papers, Please
Papers, Please had long been a favorite of mine on the Mac before it came to the iPad. You play an employee who has to let people into your country at the border, all while trying to keep the lights on and feed your family at home. The levels get increasingly harder as you have to remember more and more rules for letting people in. The game is one of the most enticing indies games on the iPad.
Other great rules-based games – Rules
---
Civilization Revolution
If you love board games and enjoy a bit of history, Civilization Revolution is pretty awesome. Sid Meier has been making great games for what seems like forever, and this is one of his classics. You pick a world leader and try to bring your people to power in one of the most fun board games I've ever played.
Other great board game type games – Agricola and Ticket to Ride
---
Five Night's at Freddy's
Consistently in the top 10 games on the App Store, Five Night's at Freddy's has you playing the new graveyard shift worker at a Chuck-e-Cheese type establishment, except at night the animatronic robots have a mind of their own and want to kill you. You'll close doors, check hallways with lights and check the security cameras to see where these robots are. It's pretty nerve wracking, and a lot of fun.
---
Lifeline
Text based games have grown in popularity again recently, and Lifeline is one of my favorites. Lifeline is completely rooted in you receiving text messages from a space traveler named Taylor, as you try to keep him alive on the planet where his ship has crashed. The cool thing about this game is that you can play it on Apple Watch too!
Other great text based games – A Dark Room and 80 Days
This post was syndicated via The App Factor.