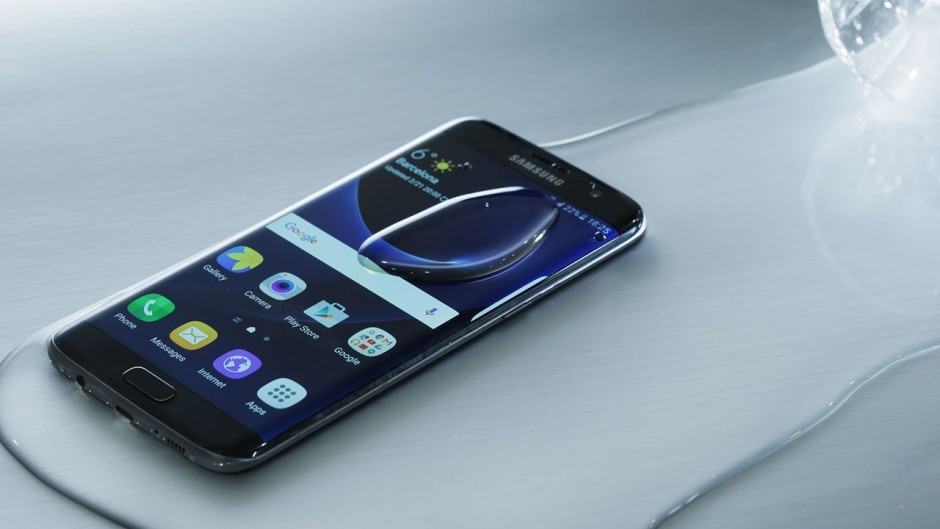 As the iPhone's biggest rivals, Samsung's latest Galaxy smartphones have to be good enough to convince consumers that they're a better buy. None do that better than the new Galaxy S7 and Galaxy S7 edge.
According to the overwhelmingly positive reviews published today, the duo have a number of big advantages over the iPhone 6s. Here are 7 of them.
Cameras
Samsung swapped last year's 16-megapixel shooter for a 12-megapixel camera this year, which sounds like a step back — but it isn't. The new sensor boasts a technology Samsung calls "Dual Pixels" to deliver faster focusing, and larger pixels that take in more light.
"In side-by-side tests, the S7's camera produced brighter, sharper images than the iPhone 6S Plus, and it was faster to autofocus, especially in poor lighting," writes Dan Seifert of The Verge. "For selfies, the S7's 5-megapixel front camera takes much sharper and more detailed images than the iPhone's front camera, and it has a brighter and wider lens for group selfies.
"Apple's cameras are legendary and tend to destroy any "revolutionary" new device in head-to-head comparisons," adds Rafi Lezter of TechInsider.
"In everyday situations the two 12-megapixel, 4:3 crop shooters [of Galaxy S7 and iPhone 6s] produce nearly identical images… But on the margins — in low light, mixed light, and shooting motion — Samsung's hardware outperforms Apple by every objective measure."
Display
Perhaps unsurprisingly, the sharper Quad HD displays packed into the Galaxy S7 and S7 edge are better than the Retina HD displays in the iPhone 6s and iPhone 6s Plus… again.
"The Galaxy S7's 5.1-inch screen is amazing," says Chris Velazco of Engadget. "The same great viewing angles and super-vivid Super AMOLED colors are back, and since this display runs at Quad HD resolution, you can forget about trying to pick out individual pixels in text and photos."
"The level of clarity here is remarkable, just as you'd expect from a device with a pixel density of 577 ppi."
In comparison, the iPhone 6s and its 750p display delivers 326 ppi, while the iPhone 6s Plus and its 1080p display delivers 401 ppi. Samsung has also managed to fit the Galaxy S7 edge's 5.5-inch screen into a smaller footprint than that of the 6s Plus.
The S7 edge is "significantly narrower than all of them," adds Seifert. "It slips into my pants pocket with ease and is just short enough so that it can stay in my pocket when I sit down. That's something I can't say about the iPhone 6S Plus, Nexus 6P, or Note 5."
Water-resistance
Samsung dropped water-resistance from last year's Galaxy upgrades, but it's back for the Galaxy S7 series — and it offers yet another advantage over iPhone. It's probably best you don't take your new smartphone swimming, but it can save you a costly repair bill.
"The most amazing thing about the S7 is that it subtly improves on its own design and imbues the device with much-needed utility, like waterproofing and memory expansion," writes Darren Orf of Gizmodo.
"I even dropped the phone in a sink full of water after overcoming what I can only describe as an innate, heart-pounding fear of purposely destroying such an expensive gadget. Though the S7 is near useless when submerged (water activates the screen's capacitive sensors), it's a million times better than being out $700+ and having a sore throat from screaming endless obscenities."
Expandable storage
Another feature Samsung has brought back this year is expandable storage, with support for microSD cards up to 200GB in capacity. Add that to the 32GB of storage you get inside Samsung's new devices and you have all the space you need for music, movies, and more.
Fast and wireless charging
Rumors claim Apple will bring wireless charging to the iPhone every year, but nine generations in, we're yet to see it. On the other hand, the technology is baked in to Samsung's devices, and just like last year's, the Galaxy S7 series is compatible with both Qi and PMA standards.
It also offers quick charging technology. "And while the GS7 uses Qualcomm's Quick Charge 2.0 and not the newer (and faster) 3.0, you can still get about 45 percent of a full charge in 30 minutes," explains Phil Nickinson of Android Central.
But you won't need fast charging anywhere near as much as you did. With their larger batteries, Galaxy S7 and S7 edge promise to last a lot longer than their predecessors in between charges. The Verge "had no trouble lasting through a full day in our tests."
The best Android smartphones?
Many of the reviews you'll read today call the Galaxy S7 and S7 edge the best Android-powered smartphones money can buy. I've only spent a few hours with mine, so I won't back that up just yet — but one thing's pretty clear: Galaxy S7 and S7 edge make it even harder for Apple to catch up to the very best Android has to offer.