The iPhone has a great built-in camera. Unfortunately, the Camera app itself sometimes falls short. If you've ever taken a photo outside only to find the sky way too bright while everything else is way too dark, you know exactly what I'm talking about.
Hydra for iPhone does a great job balancing tricky lighting situations. Here's how it works and why I love it so much…
HDR photos with Hydra
HDR stands for high dynamic range. Your iPhone has an HDR mode built-in to the default Camera app. For the most part, the iPhone Camera app does an okay job.
However, sometimes we need to take things a little further to get an acceptable shot. That's where Hydra comes in. Where the iPhone camera takes a few images and then overlaps the best parts, Hydra scans first and captures second. It also takes a lot more images, which means better results.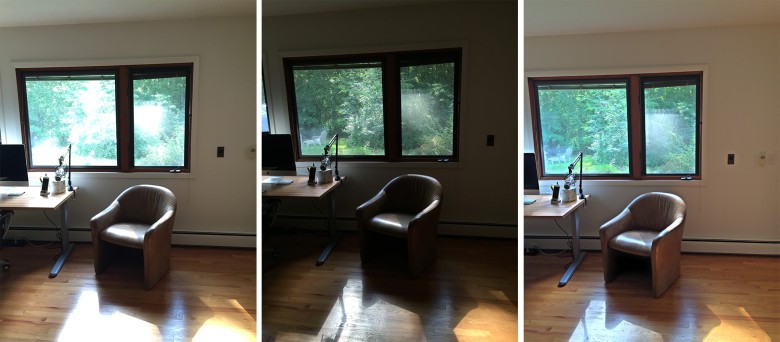 In the above sequence of images, I tried twice to balance the built-in Camera app, which are the two photos to the left. The right photo was taken by Hydra in only one attempt. The windows aren't blown out and the foreground is balanced.
Here are a few more shots taken with the built-in Camera app and with Hydra. In each set, the built-in Camera app is on the left and Hydra is on the right.

Where Hydra falls short
Hydra does great with most HDR scenarios but it has one achilles heel, and that's motion. Take a look at the flag and the trees in the above set of photos. The iPhone camera does a better job than Hydra, simply because of the amount of photos Hydra takes to balance all highlights.
In these instances, you're better off with the built-in Camera app, or something else. While Hydra is my go-to about 80% of the time, these two photo apps are also always in my camera app arsenal. When Hydra can't get the job done, one of them can fill in the gaps.
Camera+ – Great clarity and HDR options – $2.99 – Download
ProCamera 8 – VividHDR feature works wonders – $4.99 – Download
I also haven't had much luck when it comes to low-light photography in Hydra. I typically end up with motion blur, which goes back to what I said above. HDR is where Hydra really shines, and that makes it more than worth it for me. However, it'd be nice to see future improvements for low-light handling. I don't see much of a difference here than with the built-in Camera app.
One last thing to watch out for is fringing on the very edges of the photo. This happens if you move your iPhone in between Hydra captures. I've only had it happen a handful of times, but be sure to look closely at the edges before saving a photo. If you notice it later, you can always crop it out.
This post was syndicated via The App Factor.