Want to get your hands on the latest, greatest iOS and OS X features for your iPhone, iPad, and Mac before anyone else does? Do you love checking out all the new stuff in iOS 9 and OS X El Capitan so you can be the first to comment on them?
All you need to do is sign up for the Apple Beta Software Program, and you'll be able to access the public betas of these flagship operating systems before they're available to the rank and file.
Here's how to sign up for (and install) Apple's latest public betas.
First a word of caution: Like all pre-release software, Apple's public betas are not quite ready for prime time. They've been tested by developers, who can access them even earlier than public beta testers, but installing beta versions of iOS or OS X can lead to glitches and unexplainable weirdness. Some features might not work as you expect (and some might even disappear, only to be replaced in a subsequent version of the software).
In other words, if you install Apple's public betas, you're playing guinea pig. The good news is you get the latest, greatest software from Apple — and you get to help Cupertino's coders by reporting any problems you encounter. Still, if you're allergic to bugs, you might not want to load up Apple's latest software on your only Mac or iPhone.
Ready to take the plunge? OK, let's do it.
Enroll your Mac
First, head on over to the Apple Beta Software Program page and sign in with your Apple ID.
Next, you'll want to backup your Mac and then download the OS X El Capitan public beta access utility, found in step two of the Apple page here. (You'll need to already have the current stable version of OS X El Capitan installed on your Mac.)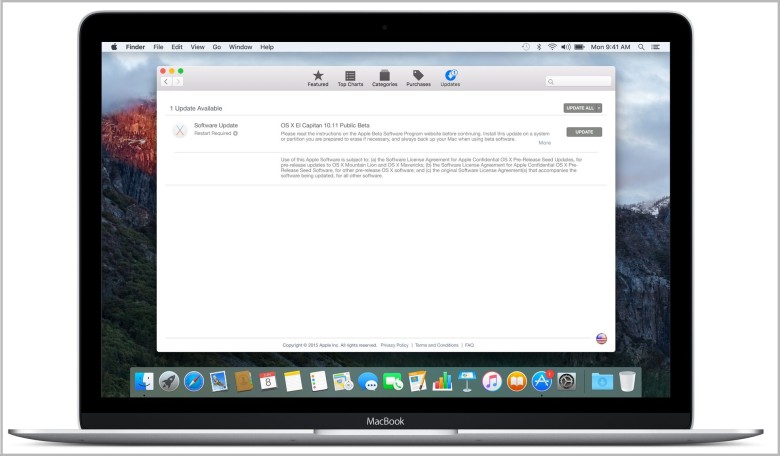 Double-click the .dmg file that you just downloaded, then double-click on the package file, and then follow the onscreen instructions to install the latest public beta. Once you agree to all the software licensing agreements and such, the Mac App Store will open and show the Updates panel. Simply click the Update button to get the latest public beta for El Capitan on your Mac. If there are no updates to install, you'll get a notification the next time there is.
Enroll your iPhone or iPad
Again, you'll want to backup your iPhone, either with iCloud or iTunes, before you get started.
On your actual iOS device (iPhone or iPad), navigate to beta.apple.com/profile, sign in with your Apple ID, and then download the profile based on the prompts your device gives you. If you've got two-factor authentication on (and you should), enter the one-time code that Apple will send you. Follow the onscreen instructions to allow the install.
Once you click through to install the profile, you'll need to restart your iOS device — tap on the Restart Now button that appears to make that happen.
Now, tap open your Settings app, then tap on General. You should see a little (1) icon next to Software Update. Tap that and then tap Install Now. (You'll need to be plugged into power or have more than 50 percent battery for that to work.)
Agree to the Terms & Conditions and you're ready to roll. Just wait for your iOS device to verify the update, download the new files, and install. Your iPhone or iPad will likely restart after this process.
Now you'll have Apple's latest software on your Mac and your iPhone or iPad (or both!) and you can start bragging to all your friends about your new acquisitions.