We all travel. We all drink coffee. We all use power. We all use the bathroom. And right now we've got deals on gear that'll give you a new way to do all of the above. Skeptical? Take a look for yourself.
IllumiBowl Toilet Night Light – 15% off
If you thought your toilet was future-proof, guess again. This motion-detecting LED snaps right to the rim, giving your throne a glow that'll make every trip to the bathroom like a trip to the future. When you run to the bathroom, it also makes sure you'll never have trouble finding the bowl. There are eight color possibilities and patterned illuminations, making quite the show.
Bring some light to your loo for $16.99 at Cult of Mac Deals.
Rolo Travel Bag – 26% off
No matter how well you pack, figuring out how to stuff clothes into a suitcase can be a sketchy proposition. Rolo makes it easy, acting as a hanging bag that separates clothes into four mesh pockets, and rolling up into a compact travel bag. It's made of waterproof nylon and works as a shoulder bag or an attachment to your backpack.
Pick up a Rolo Travel Bag for $45 at Cult of Mac Deals.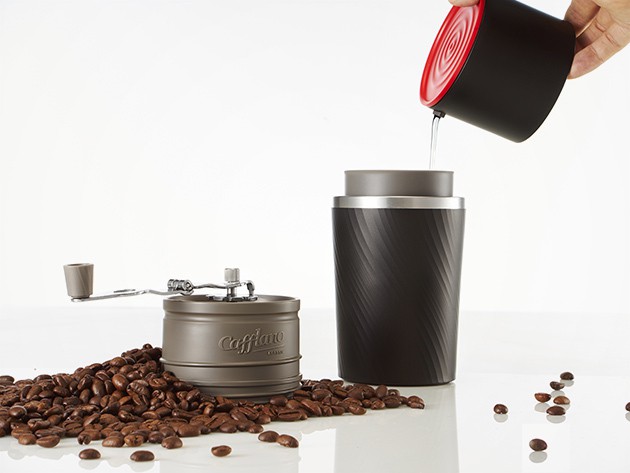 Cafflano coffee maker and cup – 16% off
When you travel, you have to leave your favorite coffee spots behind. The Cafflano coffee maker lets you enjoy your favorite joe on the go — it's an all-in-one kit for preparing, brewing and drinking coffee anywhere. The mug-size set disassembles into a hand-crank grinder, drip kettle, stainless steel filter dripper, and tumbler, without the hassle of filters, pods or wasteful packets to throw out.
Grab a Cafflano Coffeemaker and Cup for $99 at Cult of Mac Deals.
LifePower A2 Portable Outlet – 20% off
This is a small, lightweight portable battery that'll make sure you can charge anything in your bag on a moment's notice. With an AC outlet, micro USB and standard USB ports, you can easily power multiple and diverse devices simultaneously. With a charge capacity of 120 watts and a battery capacity of 25,600 mAh, you can even power larger-scale electronics like TVs and guitar amps.
Have juice wherever you need it for $239 at Cult of Mac Deals.