We're all excited about the news about the iPhone 6s, so we almost missed the part of today's Apple event where the Cupertino company spilled the release date of El Capitan, the latest version of its desktop OS.
Senior vice president of software engineering Craig Federighi was onstage showing off the upcoming handset's 3D Touch functionality with e-mail, and if you blinked, you might not have seen the part where we saw when OS 10.11 will be dropping.
One of the (inhumanly enthusiastic) demo messages, from senior vice president of worldwide marketing Phil Schiller, describes how well the developer beta of the new operating system was going, adding, "Let's get it out to customers ASAP!" Below that, in bold, is the important part: "The El Capitan ship date is September 30."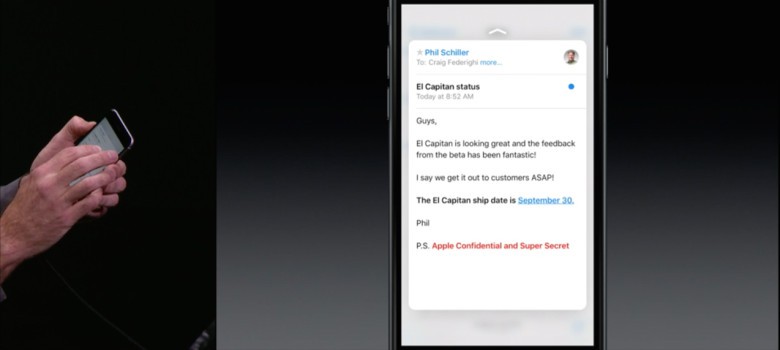 We first learned about the new OS during the keynote at this year's Worldwide Developers Conference in June. Its features include the ability to pin sites in Safari for quick access, increased performance, and multitasking functionality with Split View, which lets you run two applications side-by-side on the same screen.
El Capitan will be free when it launches at the end of the month. If you can't wait to learn about what you'll be able to do with your Mac hardware, check out our coverage of the beta releases.