There have been mixed reports about the success of Apple Music — with the project's senior director leaving Apple, reports of declining listenership, and Apple acknowledging that the platform still needs a lot of work.
However, according to a new ComScore report, Apple Music is certainly catching the attention of users. The digital analytics company claims that Apple's Music service was listened to by 44 million users in the U.S. during the month of July — putting it in the top 15 smartphone apps in the U.S.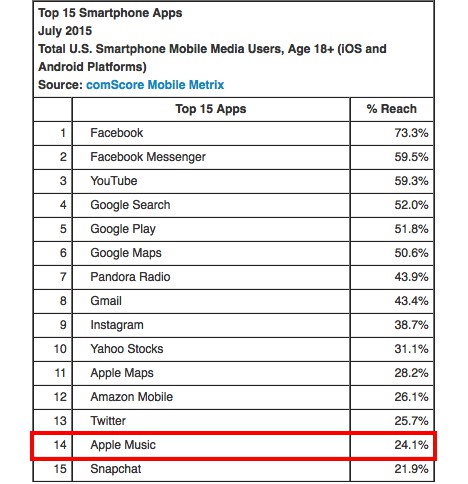 ComScore looked at the usage habits of close to 183 million iOS and Android adult users in the U.S. to draw its conclusions. Apple Music's 14th place on the list puts it ahead of Snapchat and just behind Twitter. It was also the second most popular music app, behind only Pandora Radio.
Even though Apple Music comes as a pre-loaded iOS app, thereby partially explaining this high ranking, it's still an impressive figure — particularly since the app isn't yet available on Android.
Of course, having people's ears doesn't necessarily indicate overall success. This time last year, 81 million iTunes users "experienced" U2's Songs of Innocence album, although the free giveaway was (rightly or wrongly) lambasted as a massive failure.
Subsequent reports have also noted that a considerable number of users have stopped listening to Apple Music, which wouldn't be taken into consideration for these figures.
The real test for Apple Music will come later this month once the free trial period ends and would-be customers are asked to stump up the $9.99 monthly fee.
Source: ComScore