Beneath the keyboard of your Mac lies a vast ocean of untapped potential. We've assembled some of the best deals on the most powerful apps for drilling deep into those hidden reserves of functionality. From productivity-enhancing programs. to comprehensive hard-drive maintenance and unlocking hidden Mac OS functions, these app bundles are power-packed and priced to move.
Pay What You Want: Mac Power User Bundle
This bundle of 10 apps is stuffed with new ways to up the productivity of your Mac. From compression and unzipping apps, to password consolidation and remote access, there's plenty here to simplify the use of all sorts of apps, file formats, even run Windows programs right from your Mac dock.
Pay what you want for this bundle of performance-stretching apps at Cult of Mac Deals.
Koingo Mac Essentials Bundle

These 5 apps offer upgrades to a bunch of your Mac's functions. There's Data Guardian for example, which encrypts your saved credit card numbers, passwords and other sensitive data, or MacPilot, which unlocks OS X functionalities like revealing hidden files or changing the dock's appearance, even an upgraded alarm clock.
Hotrod your Mac with this bundle of apps for just $24.99 at Cult of Mac Deals.

Mac Video Software Bundle
This is a complete solution for making sharing and viewing videos on your mac and other devices. The included video converter will transform any video file into exactly the right format for the device it's headed to, the editor lets you effortlessly achieve your video vision, and the player will playback videos in basically any format you throw at it.
Turn your computer into a video-churning powerhouse for $29 at Cult of Mac Deals.

Drive Genius 4
Drive Genius is a top-notch, award-winning app for maintaining, optimizing, preventing and even reversing problems in your computer's drive. Its tools include analyzing, repairing and maintaining your computer's drive with the Rebuild function, creating a secondary USB drive to reboot and repair a damaged drive, and creating alerts about potential problems before they turn into real ones, among many others.
Achieve peace of mind and peak performance from your Mac with Drive Genius 4, for $49.99 at Cult of Mac Deals.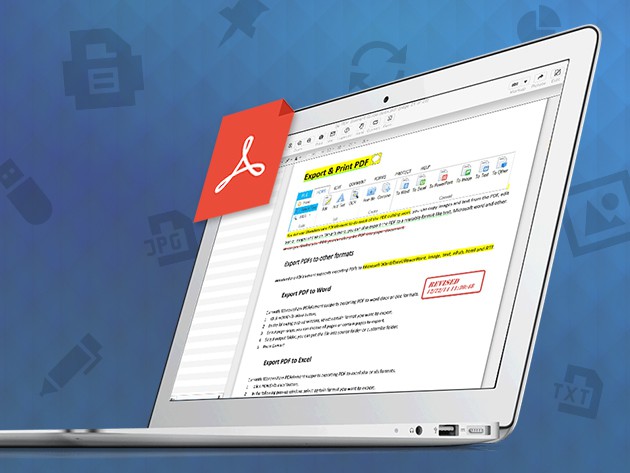 Wondershare PDFelement for Mac & OCR Plug-In
Opening a PDF can feel like the computerized equivalent of receiving a message etched in stone — nice to look at, but good luck making any edits. PDFelement makes it feel more like something digital, allowing you to edit, add, remove, merge, convert, and generally have your way with any document in this popular-but-prohibitive format.
Liberate your PDFs with Wondershare's PDFelement, going for $39.99 at Cult of Mac Deals.
NetSpot Pro Wi-Fi Optimizer
WiFi access is like water to a fish for anyone who works online — wandering into a dead-zone is not an option. NetSpot Pro offers powerful and easy-to-use tools for mapping and optimizing the WiFi wherever you work.

Iron out the WiFi wrinkles in your life for just $19.99 at Cult of Mac Deals.