A tipster has been playing around with the iPhone 4.0 OS beta, and sent us the following report and screenshots.
iPhone OS 4  is slick and fast. It feels pretty polished even though it's beta. There's a few glitches here and there but no showstoppers. It does not appear to work with all apps. Some apps do not load up at all or they crash soon after launch. But this is expected since it is a beta.
Multitasking
The big change is multi-tasking, which is great. Easy to jump between programs. Works well and quickly. There seems to be no performance hit, even with half-a-dozen apps open.
Above is a video showing what the multitasking toolbar looks like (not from our tipster). You hit the Home button twice to bring up the multitasking bar at the bottom of the screen. Hit the app you want and it comes to the foreground.
5x Digital Zoom
There's a camera update. The camera is fast and now has 5x zoom. You can also autofocus and more when taking video.
As you can see, the pictures aren't great, but the system is fast and well implemented. The zoom slider is easy to use.
Unified Email Inbox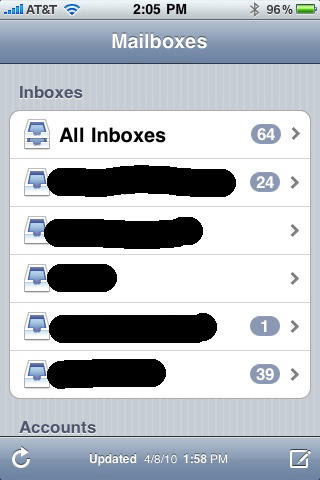 The unified inbox is something many users have been waiting for. No longer do you have to switch back and forth from email accounts or do the workaround of forwarding all your email addresses to one email address.
Incoming email to all accounts is now collected in "All Inboxes." Of course, individual inboxes are still available. Mail is sorted by thread, by default. Hit a message, and all the messages in that thread are displayed. You can easily move up and down the thread using previous/next message arrow keys.
App Folders
Creating folders for apps is also a much-requested feature. To create a folder, drag one app on top of another and a folder is created. It's automatically named after the category of apps it contains. It's easy to change the name of the Folder if you don't like the name it chooses.
It makes a big difference organizing the Home screen. Apps are easy to drag in and out of folders.
New Look
The 4.0 update has a fresh new look with a water droplet theme. The new wallpaper is user-customizable. Folders can be dragged into the taskbar — not the Games folder in the screen above. And you can now delete apps without being asked to rate them first.