Look, you wouldn't put a "Git-R-Done" bumper sticker on a Lamborghini. So why would you muck up the chic of an iPhone with a garish or absurd case like the ones on this list?
Jony Ive understands self-expression and probably even appreciates when a person selects an iPhone case that puts them in touch with their inner selves. But when a case's main function is to cushion a fall or fend off scratches, your next concerns should be how it fits in a pocket — and some taste.
And I don't mean taste as in fried chicken. Apparently the Japanese are such big fans of Kentucky Fried Chicken, a product developer for the Colonel designed an iPhone 6 case shaped like a drumstick. Even better, it's the size of one of those state fair turkey legs.
But taste is individual, so if you like guns, lobsters, stuffed animals or the Batmobile, you may take umbrage with my list of ridiculous iPhone cases. I like some of these things, too. I just wouldn't wrap my phone in rubber bacon with an egg on top.
Lobster case
The Lobster case, as crazy as it looks, is actually a very smart joke. It comes from the mind of Elliott Gorham a conceptual furniture designer from Melbourne, Australia, who created the case a couple years back based on a Salvador Dali quote. Dali supposedly said, "I do not understand why, when I ask for a grilled lobster in a restaurant, I am never served a cooked telephone." Gorham served neither since his case appears to have been a one-off design concept.
Isopod case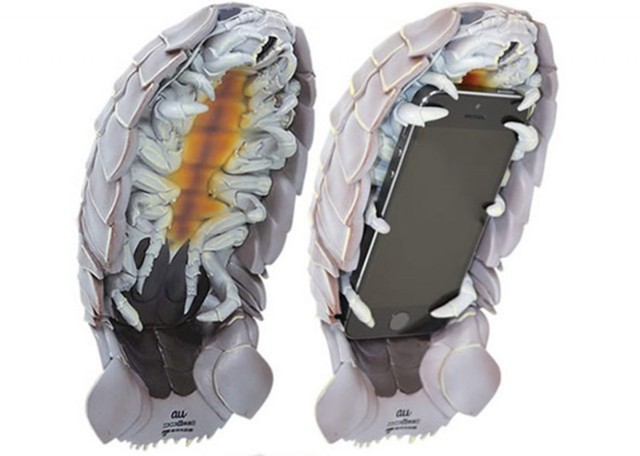 If crustaceans are your thing, you can buy a giant Isopod case from ITMedia. It's like getting the tail end of the lobster with claws on the inside to grip your iPhone 6. For protection, I would put it up against anything made by OtterBox, but if tucking your phone into a pocket is important to you, this could create an unsightly bulge. It comes in two colors and starts at about $80.
Bacon and eggs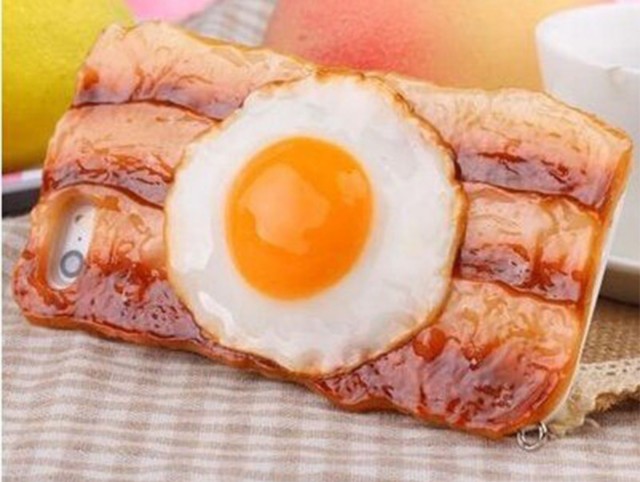 Breakfast is said to be the most important meal of the day. But it's best served on a plate, or better yet a piece of toast, but not on the iPhone 6. Bacon is very popular and if you are one of the meat's most spirited champions, you will only be out $16 with this case. Should you check it out here on Amazon, scroll down to see the other food-based cases. Bacon and eggs may not seem so weird.
The knuckle duster case
Apparently, this case made to look like a set of brass knuckles was popular enough to make a version for the iPhone 6. It has been around since the iPhone 4. No doubt, it will help keep a grip on your phone and it may even be useful in a fight. Keep in mind, police can confiscate anything that looks like a weapon.
Handgun case
For about $20, an iPhone user with this case greatly increases his or her chances of being shot. Police take no chances with anything that remotely looks like a gun. Step away from this case.
Blade case
Again, why would you carry something that looks like a gun or, in this case, a detonator? Modeled after a swordlike weapon, this case is made for fans of the anime show Attack on Titan. If common sense doesn't get you to reconsider, maybe the $50 price tag will.
Pink rabbit plush cover
Sure, I think it's cute. Who doesn't like soft, pink bunnies? Just picture yourself talking on your phone with this cover. Now grow up and use your iPhone to search for a more sensible case. Why would you want to give a thief something to grab?
Sailor Moon case
Forgive my ignorance of all things anime. There are people who will see the cool in this case even if I can't. The case is fashioned after an iconic dress worn by characters from the popular Sailor Moon series. Comes in various colors, presumably based on the favorite colors of the character, and will only set you back $16. Only 12 left in stock!
Kentucky Fried Chicken leg case
I love Colonel Sanders. I just think his chicken is best served from a bucket and not wrapped around an iPhone. The chicken and the iPhone are both perfectly designed, the one with 11 secret herbs and spices while the other gets cooked up in secret in Cupertino. So enjoy your chicken and enjoy your iPhone. Just not together.
Batmobile case
I love this Batmobile case but would Batman deem it practical for his iPhone? By itself or in a more form-fitting hard case, the iPhone would fit perfectly in his utility belt. (The knuckle duster might be a better case for Bats.)
Red wine or mug of beer case
Something about having a liquid so close to the skin of an expensive computing device doesn't feel right. Plus, do you want your friends to wonder whether you are a problem drinker? Maybe the case should say, "In case wine rack is empty, break glass."
Set phasers to stunning
You hate to see too much makeup on such a perfect face. That's the point of this post. As for this Spock iPhone case, I love it and I don't care how ridiculous it seems.