This week, Apple lost its appeal on the antitrust case that the federal government and several state attorneys general filed on it concerning price fixing on ebooks. And now that that's out of the way, it's time for the company to pay up.
The green states in the map below were listed as plaintiffs on the class-action lawsuit, which means that if you live in one of them and have bought anything from iBooks, you may be entitled to a cut of the settlement.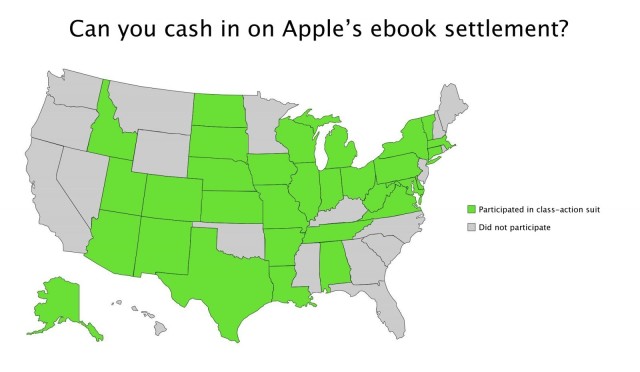 In addition to the states and commonwealths highlighted above, the settlement also includes residents of the District of Columbia and Puerto Rico. Apple has to pay out $400 million, and its five co-defendants — publishing houses Harper Collins, Penguin, Simon & Schuster, Hachette, and Macmillan — settled earlier for $160 million.
The 2-1 decision from the U.S. 2nd Circuit Court of Appeals upholds the original 2013 decision finding that Apple conspired with the other companies to force other ebook sellers like Amazon to raise rates by letting publishers, not retailers, determine prices.
"We conclude that the district court's decision that Apple orchestrated a horizontal conspiracy among the publisher defendants to raise e-book prices is amply supported and well reasoned, and that the agreement unreasonably restrained trade," the ruling says. A "horizontal conspiracy" involves collusion between parties at the same level of production (in this case, publishers), as opposed to a "vertical conspiracy" which may exist between suppliers, manufacturers, and distributors.
With the payout set to split among as many as 23 million consumers (per the New York Times' estimates), each participant could receive as little as $24 dollars from this case.
But hey, you could always buy a pizza on Apple, and that pizza would probably be delicious.