This week, Leander takes some time to try on the Apple Watch in-store, finding out whether the hottest smartwatch out there is worth your time or money, David heads into an Apple Store on Magnificent Mile in Chicago for a fitting and to get some customer reactions, plus a ton of news about this latest wearable tech that you'll want to read from cover to cover. We've also got Stephen with some travel tips for you and your trusty MacBook, as well as Luke's take on why you want to upgrade your iOS to 8.3 right away (hint, it's not emojis). Rob also walks you through a couple of how-tos, including one way to make sure your iOS gaming sessions aren't interrupted with a simple tweak to Do Not Disturb.
Make sure to head on out and download Cult of Mac Magazine to get your own "hands" on the great content we dose you with every week.
How an in-store Apple Watch demo will make you a believer

Still not planning on getting an Apple Watch? Think you can resist an actual try-on appointment? Guess again – Leander thinks you will become a believer if you just go try one on. Go ahead, give it a shot.
Try on Cult of Mac Magazine April 17 Edition, Free on iTunes

Apple Watch a hit on Chicago's Magnificent Mile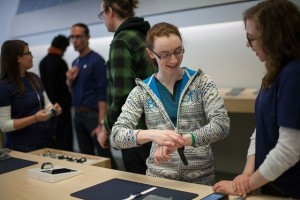 When we took a trip to a downtown Chicago Apple Store, there was just one naysayer in the crowd. However, judging by the gaping mouths and puddles of drool, the Apple fans at the downtown Chicago store seem all in. Preorders began early Friday for the watch, which officially hits wrists April 24.
Go all in with Cult of Mac Magazine April 17 Edition, Free on iTunes

Why you really want to update iOS now (it's not emojis)

Here's a very good reason to upgrade your iPhone and iPad to iOS 8.3: according to security researchers, the update fixes a vulnerability which has the potential to render your device almost useless.
Hack into Cult of Mac Magazine April 17 Edition, Free on iTunes

Pro tips for traveling with your MacBook

If you take your MacBook with you wherever you travel, you know that carrying around a $2,000 machine is a constant risk. In this video, let us show you everything you need to know to keep your MacBook safe while you're on the move.
Keep it safe with Cult of Mac Magazine April 17 Edition, Free on iTunes

How to keep iOS gaming sessions from being interrupted

Oh, Do Not Disturb, we sure do love you. Unless, of course, our iPhone is on and we keep getting ganked by enemies in our mobile video games. Let us show you how to make sure your gaming sessions aren't interrupted with just a couple of little adjustments.
Learn even more in Cult of Mac Magazine April 17 Edition, Free on iTunes