As we use our iOS devices for more and more tasks in daily life, a big question facing Apple is exactly how to squeeze more functionality out of limited screen real estate. The iPhone 6 Plus and the rumored 12-inch iPad Pro offer the simplest answer to this conundrum: make the devices bigger.
But a new patent application published today offers another potential way around the problem, without compromising the gorgeous one-button simplicity of Apple's mobile devices.
Filed in August 2014, the "Configurable Input Device" patent application describes how Apple may consider incorporating sensor regions for user input on the back of iPads, thereby opening up a whole new way of using your favorite apps.
Were it to come to fruition, this patent application would be particularly good in the iOS gaming department — possibly joining Apple's recent iPhone joystick patent as a way to let gamers play titles on their iPhones and iPads without having to cover parts of the screen touching virtual buttons.
Apple's patent application suggests that sensors would be placed in a grid pattern on the back of the iPad, so as to make them easy to access without the user having to look at what he or she is doing (think touch-typing on a keyboard!)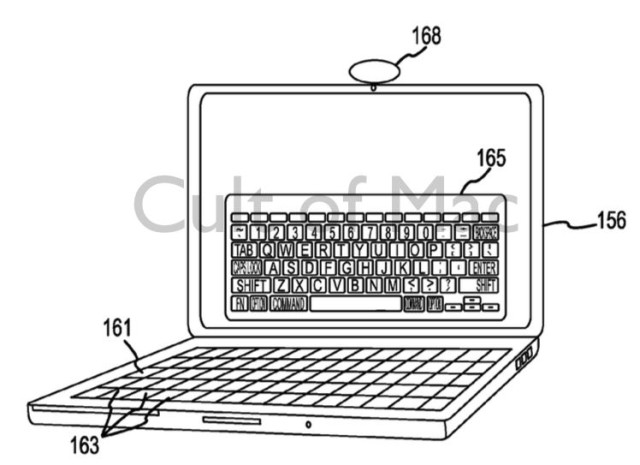 Speaking of keyboards, the patent application also describes how Apple is interested in the idea of virtual keyboards for possible future iterations of the iMac and MacBook.
Steve Jobs demonstrated with the iPhone just how useful it is to have buttons that can change around according to what the user is doing at a particular time (i.e. custom keyboards for every application) and this touchscreen keyboard concept demonstrates just how that might work — with an on-screen virtual keyboard showing where the user's fingers are positioned.
Will we see these show up any time soon on Apple devices? Most likely not, but Apple patents are a constant reminder of just how much experimentation is going on behind closed doors at 1 Infinite Loop.
Via: Patently Apple