There's a line of thought which suggests that Apple's CarPlay technology essentially turns your car into one giant iPhone add-on. A new trademark application, however, suggests that Apple is planning to lend its approval to some other, likely smaller third-party CarPlay accessories — coming soon to a vehicle near you.
Similar to the "Works With iPhone" developer program for accessories designed to connect specifically with the iPhone, Apple's "Works with CarPlay" trademark will certify that a particular third-party product has been approved as meeting Apple's performance standards for its in-car iOS interface.
The trademark application is in Europe, although it is likely that Apple will file similar applications in other territories around the world.
Already in-dash multimedia companies like Pioneer have made CarPlay live on several of its in-dash multimedia receivers, meaning you don't need to buy a brand new Ferrari or Benz to use iOS in your vehicle.
If Apple's hopes of having CarPlay in over 24 million cars over the next five years comes true, then we're sure to see plenty more third-party accessories. This way Apple gets to exercise control over which ones have its official stamp of approval.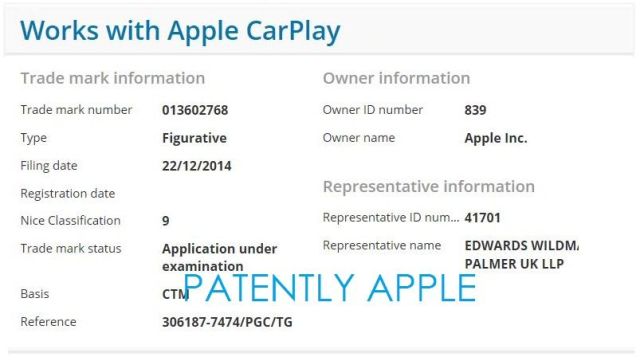 Via: Patently Apple