The word "app" has always described Apple's executable programs, but it wasn't until the App Store appeared in 2008 that the term really took hold as a way to describe the little programs that help make our smartphones not just smart, but also useful and totally fun.
At this point, "There's an app for that" has become a phrase you'll hear pretty much everywhere.
We've taken a look at our favorite new apps, some of which have been featured on Cult of Mac previously, and chosen the year's best. Now get downloading!
Hyperlapse
Instagram's Hyperlapse lets you take long videos and compress them into moving time-lapse videos that look and feel like something made with a much more expensive set of equipment. It took the app world by storm when it came out in August, and Apple has named it runner-up for Best App of 2014.
Hyperlapse — free

Carrot Fit
If you enjoyed your middle-school gym teacher yelling at you, or your dream coach is a mean drill sergeant, Carrot Fit might be the best thing for you. The app gives you an electronic dressing down every time you open it, but even more so when you don't. This is the app that will make you laugh while you cry, and it offers a pretty decent workout trainer and weight tracker to boot.
Carrot Fit — $2.99

Screeny
Taking a lot of screenshots is an occupational hazard here at Cult of Mac, since we try to illustrate our how-to posts and provide good visuals for readers. It must also be an issue for many others out there, and Screeny aims to be the solution to a Camera Roll full of pictures of your iPhone screen. Simply launch Screeny, let it auto-find all those annoying one-use pictures, and let it delete them en masse.
Screeny — 99 cents

Taco Bell
Taco Bell gets a bad rap from food snobs, but the chain's offerings are quick, tasty and easily modified to make them vegetarian-friendly. Now you can use Taco Bell's mobile app to pick out your Double Decker Taco Supreme combo meal with the giant cup of Mountain Dew before you even roll up to the drive-through window. The app is gorgeous to look at, and you can customize individual items with it.
Taco Bell — free

Inbox
Inbox by Gmail has replaced the last email app I loved, Mailbox, probably by appropriating its ease-of-use and its Inbox Zero metaphor for managing the overwhelming amount of email I receive every day. Swipe right to archive or left to snooze an email for later delivery. Use the Low Priority bundle and other self-sorting categories to deal with crap email fast.
I use this app for my personal email and it makes getting through the junk mail and right to the good stuff faster than ever. Now, if Google would only add an easier way to swipe to delete.
Inbox by Gmail — free

Transmit
Spending a lot of time moving files around the Internet or uploading to websites is accomplished with FTP, SFTP, WebDAV or Amazon S3, but there's never really been a good client for those nerdy protocols on iOS.
Into the breach steps Panic, makers of very fine Mac OS X FTP client Transmit, with an iOS version for file transfers on the go. It's pricey for an app, but worth every penny if you do a lot of transferring.
Transmit for iOS — $9.99

Acorns
Investing is a pretty tricky venture, but Acorns makes turning your spare change into a money-making venture super-easy. You simply give the app encrypted access to your bank account and answer a few questions about your risk tolerance. Then Acorns does the rest, rounding up your purchases to add to your micro-investment account, which uses Index Funds to make you money. While the returns are small at first, it's a great way to save money while also earning a bit of interest.
Acorns — free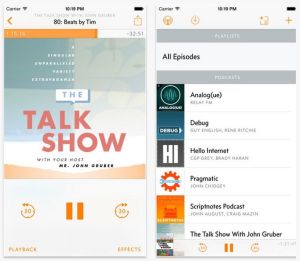 Overcast
Overcast is the best-in-class podcast player with a couple of killer features, like a way to speed up shows so you can listen to more in less time, and an audio-normalization feature that will make the volume of all your podcasts similar so you don't end up blowing your ears out when you crank up the car stereo to hear the quiet bits. Developed by The Magazine and Instapaper creator Marco Arment, Overcast is the one to get.
Overcast — free trial

MasterCard Nearby
While Apple Pay is a success, it's still a crapshoot as to whether you'll be able to use it at the place of business you want to buy stuff from. MasterCard Nearby solves that problem with a location-based system that lets you find out which retailers will allow you to tap your iPhone up against the "contactless" payment kiosk and purchase any amount of anything — up until you max out that card, of course. Better yet, the results aren't limited to MasterCard, as any retailer that takes the MC will also take the Visa via the Apple Pay system. Hooray!
MasterCard Nearby — free
Litely
The Litely app takes the gorgeous, subtle filters of the Litely desktop product and brings them to iOS so you can make all your pretty pictures just that much more beautiful. You'll get nine stunning, filmic presets with your free download, and you'll have the option to purchase up to 66 more once you get started. The app has a fantastic interface that lets you edit your photos with fewer taps than other editing apps, and features smart tools to help you make the best cropping and filtering decisions.
Litely — free

Manual
The camera on your iPhone 6 or 6 Plus is probably the best one out there, with some amazing technology like a huge sensor and brilliantly clear lenses, but the app itself lacks some standard features of a good point-and-shoot camera (like a custom exposure feature, so you can adjust the "speed" of your "film" to get a better shot). Manual is your new best friend if you are constantly trying to work around the iPhone Camera app's limitation. It offers a way to adjust your shutter speed, ISO, white balance, focus or exposure compensation.
Manual — 99 cents
Nuzzel
Nuzzel connects to your Facebook and Twitter accounts and then lets you get the news you want from your friends and other people you follow, with the ability to filter results — based on the number of retweets or likes — into a more magazine-style layout. It's like getting all the links your friends post into your Facebook feed without having to brave the game invites or the insulting crap on Twitter. Win/win, right?
Nuzzel: News From Your Friends — free