From perfect superhero books to quirky indie hits, the comics scene circa 2014 is about as varied as it's ever been.
If you're looking for some four-color reading recommendations over the holidays, look no further than Cult of Mac's list showcasing the year's finest comics. Whether it's DC's best-ever take on Batgirl, or Bryan Lee O'Malley's eagerly awaited follow-up to the superb Scott Pilgrim series, there truly is something for everybody.
Batgirl
After years on the sidelines (thanks to a Joker-fired bullet through the spine), Barbara Gordon's Batgirl is finally back in action. Gail Simone's post-New 52 run on the character was so-so, hampered with far too much grittiness for a hero who should be the antithesis of perennial brooder Batman. But the new creative team of Cameron Stewart and Brenden Fletcher are fast transforming Batgirl into the most 21st-century hero out there. If you're looking for a lighter, more action-packed character totally in tune with the millennial generation (think coffee shops, selfies and social media), this is the book to pick up.
Batgirl hasn't been so much fun since the first 25 or so issues of Cassie Cain's standalone Batgirl comic from 2000.
Daredevil
A bit like Batgirl, writer/artist combo Mark Waid and Chris Samnee have helped steer away from the omnipresent world of dark and gritty heroes by moving Daredevil to San Francisco. The change in scenery offers a fresh start for both Matt Murdock and would-be new readers, and so far it has paid off perfectly.
The art is gorgeous, the mysteries are intriguing, the characterisation is superb, and there's enough action to keep everyone happy. Despite not being a movie box office draw on the level of Iron Man or Captain America, Daredevil shows here why he's one of Marvel's best heroes.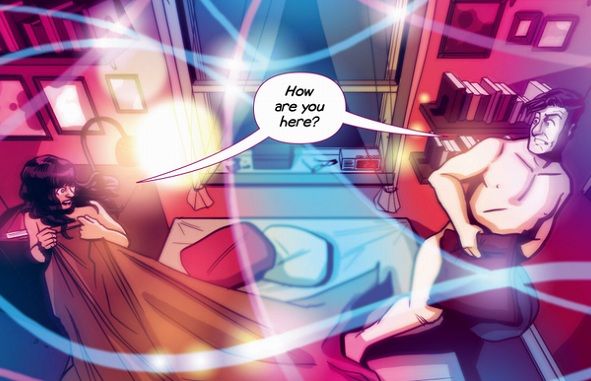 Sex Criminals
If there's been a comic title that has spread purely on good word of mouth in 2014 it is Matt Fraction's Sex Criminals. Telling the story of a young actor and librarian who have sex after meeting at a party, only to discover that their orgasms are capable of freezing time, the series fuses crime drama, romance, comedy, and a fair bit of raunchiness, too.
If there's one thing I love about the series, though, it is the fact that it continues to surprise well after its high concept premise has been revealed.
Saga
Brian K. Vaughan's epic space saga called, err, Saga just gets better and better. If you're eagerly awaiting the new Star Wars movie, or the next season of Game of Thrones, but have yet to check this out, then Saga is your holiday reading list taken care of straight away.
Perhaps most impressive of all is what it continues to do with the monthly format: not just telling an ongoing story that remains gripping from issue to issue, but also fleshing out an entire comic book universe that may just be one of the richest of all time.
Seconds
What do you do after creating Scott Pilgrim, one of the most popular indie comics of the last decade? Having superbly told Scott's story over the course of six years and six separate digest-size black-and-white graphic novels, creator Bryan Lee O'Malley could be forgiven for not managing to replicate that kind of creative success a second time round.
If the appropriately-titled Seconds is anything to go by, however, O'Malley is just getting started. Seconds concerns Katie, the twenty-something owner of a restaurant who gets the power to change her past by writing mistakes down in a notebook, eating a mushroom and falling asleep— only to wind up creating more problems. Seconds is only one book old so far, but it's already a more mature work than Scott Pilgrim.
O'Malley's writing resonates more than, while his artwork has a new level of assurance to it. With so many great titles on this list, it's tough to pick out an overall winner. If you're only going to buy one title, though, make it this one.
Wonder Woman
Wonder Woman is a character that has been consistently shortchanged throughout comic history: having an iconic 1970s TV series but relatively little else. That all changed a few years back when Brian Azzarello and artist Cliff Chiang took on the character and wrote what will go down in history as the definitive three year Wonder Woman run — which came to a close in late 2014.
Too many creators try and and put their stamp on the characters they write by tearing up what made the character memorable to begin with. Azzarello certainly jettisons parts of the Wonder Woman legend along the way, but it's all a means to explore just who Wonder Woman is, and why she matters.
The Wicked + The Divine
The Wicked + The Divine depicts a world where, every 90 years or thereabouts, an event called the Recurrence takes place in which gods return to Earth. For two years they live the high life as rap stars, rockers and scenesters, before they have to die.
Okay, so it's a Miley Cyrus fifteen-minutes-of-fame parable for the TMZ generation, but it also has something of a 1990s Vertigo vibe to it: being the kind of comic that could have sat alongside The Sandman and other such titles. The art by Jamie McKelvie is nothing short of godlike. No pun intended.
The Love Bunglers
While we're talking about comics that could have come out of the 1990s, The Love Bunglers — written by Love And Rockets' Jaime Hernandez — is a graphic novel that absolutely should be mentioned. It's the latest instalment in Hernandez's long running series, and could be the end of the line, too. If so, it's the perfect note to go out on!
Batman: Zero Year
Running from the middle of 2013 to the middle of this year, Batman: Zero Year has been nothing short of an epic. Although it has played out in comics as wide-ranging as Batgirl, Action Comics and, yes, even Green Lantern Corps, the bulk of Year Zero has taken place in the pages of Batman, which continues to go from strength to strength courtesy of writer/artist team Scott Snyder and Greg Capullo.
Zero Year is yet another retelling of the Batman origin, but it does it with sufficient differences to make this not feel like a retread. It's also the most significant Riddler story we've had in ages.
Miles Morales: Ultimate Spider-Man
In an age where comic sales are down from their 1990s high point, while movies like The Avengers rake in billions at the box office, it's easy to imagine that major comic book franchises such as Spider-Man would be required to tick along without rocking the boat. Fortunately, there are few signs of that happening. Over in the Ultimate universe, Peter Parker is done being Spider-Man, with the web slinger role handed over instead to Miles Morales.
In this year's Miles Morales: Ultimate Spider-Man, we've had built toward a confrontation between Morales' Spidey and Norman Osborn's Green Goblin. The pace has been a little slow for some readers, but I've always loved Brian Bendis' insistence on building characters you care about. And this title is really no different.