Whether you're shopping for your sweetie or trying to find something for your mum, picking presents for the important women in your life can prove daunting. Cult of Mac is here to help with this list of the top 10 gifts we'll be buying for the fairer sex this year.
From clothes to quirky tech, we've got you covered.
iPad Air 2
Perhaps the most obvious gift on our list, the iPad Air 2 is, quite simply, the best iPad Apple has created yet. It's not the radical redesign of the tablet some were hoping for, but if you're buying the device for someone who hasn't had an iPad before (or whose current iPad is a couple of years old), the iPad Air 2 is the perfect choice to go with.
What makes it so good? Try a faster processor, higher-resolution display, bigger screen and thinner form factor, and then consider great "added extras" like Touch ID and the gorgeous new gold color. The best tablet yet.
iPad Air 2 (from $485 on Amazon)
Parrot's Flower Power

If you're buying gifts for a green-fingered type, check out Parrot's Flower Power, a wireless plant sensor that quantifies how well your plants are doing and sends this information, via Bluetooth, to your iPhone or iPad. (If you're out of Bluetooth range, the data is stored in the device's flash memory.)

To use Flower Power, simply plant the device in either indoor or outdoor soil. You'll quickly get info on moisture levels, whether your plant is getting enough to eat, and a plethora of other pertinent data that can be used in conjunction with the app's library of more than 6,000 plants, shrubs and trees.

Unlike the earlier EasyBloom Plant Sensor, which was designed to resemble a fake flower, Parrot's Flower Power is much less geeky-looking, too — which can only help usher gadget-shy gardeners into the world of Internet-connected devices.

Parrot's Flower Power ($59.99 on Amazon)
Impossible Instant Lab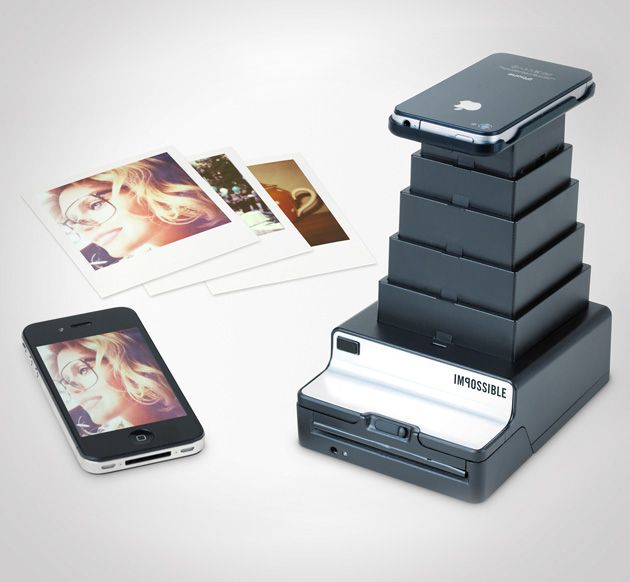 The quirkiest gift on our list, the slightly chunky Impossible Instant Lab lets you easily print Polaroids of your iPhone pictures. In a seamless digital world, this decidedly retro device will have you shaking thin strips of plastic waiting for your '70s-style prints to appear.
If pin-sharp photo quality or printing lots of photos rapidly is the most important factor on your giftee's list, the Impossible Instant Lab might not be the best choice. But for the right person, this is a tremendous gift — and a whole lot more authentic than just applying an Instagram filter.
One word of advice, though: it's worth double-checking about iPhone compatibility, as currently the iPhone 6 and 6 Plus are not listed on the site.
Impossible Instant Lab ($198 from Amazon)
Women's Bixby
At $1,950, the Women's Bixby isn't the cheapest bike out there, but it definitely justifies its price tag. It's a gorgeous three-speed town bike, with high-quality construction courtesy of Detroit startup Shinola (which was founded by part of the team that launched Fossil watches). Both male and female versions of the Bixby are available (so why stop at one?), with gender-specific saddle designs and proportional geometry. Colors include char, mauve, taupe and teal.
If the point needed making again, the Women's Bixby demonstrates why town bikes are about a whole lot more than just function these days. Oh, and it just happens to include a gorgeous Japanese Crane bell that's practically worth the price of admission on its own.
Women's Bixby bicycle ($1,950 from Shinola)
Canon EOS 600D
A combination of hardware improvements and opening up the technology to third-party developers means the iPhone 6 and 6 Plus feature a better camera than ever. But there's still a definite time and place for dedicated SLRs — and that could be "December 25" and "under the Christmas tree." Launched in 2011, the Canon EOS 600D is a few years old now, but it's still a great entry-level dSLR that's easy to use, produces fantastic results and won't cost you an arm and a leg.
Either manual or fully automatic modes are present, alongside a "basic+" and "creative auto" mode that bridges the gap between the two. The addition of a fold-out screen — similar to the sort you'd find on a camcorder — is invaluable for anyone who's used to taking pictures on iPhone or iPad.
Canon EOS 600D ($449 from Amazon)
Ogio Hamptons Tote Bag
A high-quality bag for carrying the MacBook, iPad and assorted other valuables is always going to go over well. Of all the bags available in this category, the Ogio Hamptons Tote Bag may just be the most attractive, as well as the most efficient and durable. Well-padded and fleece-lined, the tote will comfortably fit a 13-inch MacBook Pro, in addition to any papers, folders and documents, alongside purse essentials like wallets, iPhone, pens, makeup, keys, flash drive, etc.
The fact that it's zippable means there's no risk of things falling out or water getting in, while exterior flap pockets provide easy access. The only possible risk of buying such a great bag for carrying iDevices is that you might be expected to also supply any gadgets that might be needed to fill it.
Ogio Hamptons Tote Bag (from $55 on Amazon)
adidas miCoach Seamless Sports Bra
What's that, a sport's bra as a Christmas gift? OK, so on the face of it a sport's bra is more of a necessity than a luxury; dragging it down to the level of new school shoes as far as exciting gifts go. But the adidas miCoach Seamless Sports Bra is no ordinary sports bra, but rather one that combines a surprising design with a clip-on heart rate monitor that pairs with your iPhone or smartwatch.
Like 90 percent of the sane world, my wife enjoys gadgets only when they can demonstrably improve her day-to-day life without adding unnecessary complexity and/or an element of awkward geekiness. The adidas miCoach Seamless Sports Bra does exactly that. With the launch of the Apple Watch next year, 2015 is set to be the year when fitness tracking finally becomes a mainstream concept. Perfect, then, to stay one step ahead of the pack with a gift that's only going to become more relevant and useful as the new year winds on.
adidas miCoach Seamless Sports Bra ($55 on Numetrex)
YogaSmoga Run Jump N' Play crops
If you're looking for another fitness gift to go with the adidas miCoach Seamless Sports Bra, you can certainly do a lot worse than a pair of YogaSmoga Run Jump N' Play crops. YogaSmoga has quickly established a name for itself as one of the premier yoga attire companies, and while plenty of options are available — ranging from pants to shorts and tees — the Run Jump N' Play crops demonstrate everything the brand does so well.
They're made from a soft, super-breathable "Auro Mesh" fabric, come in a range of colors and patterns, and look flattering, with a waistband that hugs waists and highlights curves. Just make sure you get the size and color right.
YogaSmoga Run Jump N' Play crops ($88 from YogaSmoga)
Lean In: Women, Work, and the Will to Lead by Sheryl Sandberg
Due to the male-centered nature of Silicon Valley, few tech business books written by women break through onto the best-seller lists. Lean In: Women, Work, and the Will to Lead by Facebook COO and former Google VP Sheryl Sandberg is one of the notable exceptions.
Growing out of a well-received TED talk from 2010, Sandberg's book is a feminist manifesto for the business world, addressing the lack of women not just in tech but in high-powered positions across the board. Not all of its conclusions will be agreed upon (why should women have to "lean in" to a male-dominated world to begin with?), but it is definitely one of the most thought-provoking tech books of recent times — and a worthy Christmas gift.
Lean In: Women, Work, and the Will to Lead ($15 from Amazon)
Roku 3
This is an Apple site, so part of me feels pressured to pick the Apple TV as the television set-top box of choice. But the truth is that, while the Apple TV might have the makings of a great set-top box, in its current incarnation it pales in comparison next to the Roku 3.
Boasting a more-than-fair price tag and an unparalleled range of viewing options — including Netflix, Amazon, HBO, YouTube, Showtime, WatchESPN and plenty more — the Roku 3 is the easiest streaming media box to recommend on the market. There's no set-top box that would be better received under your Christmas tree this year.
Roku 3 ($100 from Roku)