Shopping for the gamer in your life can be more difficult than beating your way to the end of Battletoads or collecting all 121 stars in Super Mario Galaxy.
To make the holiday shopping season a little simpler, Cult of Mac searched far and wide for the best gaming gear, trying out all the major platforms and accessories.
What follows is our roundup of the finest gamer gifts, from consoles and handhelds to peripherals. And we've even tossed in a few must-play game recommendations.
PlayStation 4
Here in the eighth generation of gaming consoles, Sony's PlayStation 4 is the clear winner. When compared to the similarly powered Xbox One, the PS4 boasts a better interface and a robust gaming ecosystem, with Sony pushing to support a wide range of titles, from hardcore to quirky and independent.
Must-play PlayStation 4 games
Destiny
— For first-person shooter and multiplayer fans; plays like
Halo
with incredible visuals.
The Last of Us: Remastered
— For fans of scary zombie stories with heart; strong characters and gritty, realistic environments.
Little Big Planet 3
— Just as fun and amazing as the first two installments, with better creation tools and single-player action.
Diablo III: Ultimate Evil Edition
— Loot, kill, loot some more for some great button-mashing fun.
The LEGO Movie Videogame
— It's like a director's cut of
The Lego Movie
you can play around in. What's not to like?
PlayStation Plus, which costs gamers $49 per year, is Sony's multiplayer gaming system as well as its free digital game-distribution platform. You can play on the PS4 without paying the annual fee, but we don't recommend it. You'll get two or three free games per month (and not just crappy also-rans, either), plus you'll be able to connect with other players in multiplayer games like Destiny and Call of Duty.
Sony's flagship console also benefits from a list of exclusive games that rivals that of Microsoft's competing system, including The Order: 1886, Little Big Planet 3, Infamous: Second Son and First Light. And don't forget indie darlings Don't Starve and the upcoming No Man's Sky.
You can watch Blu-ray movies on the PS4, just like the PS3, and there are a variety of apps like Netflix and Amazon Prime that you can use on the console to get your movie and television fix. The console connects to a wired or Wi-Fi Internet connection, and comes with a well-designed controller that feels perfect in the hand, whether you're hunting down aliens on Mars in Destiny or gadding about a Little Big Planet level.
If you want a high-end gaming rig that's cheaper than a Macbook Pro, the PS4 is a fantastic addition to your gaming room.
PlayStation 4 ($399 from Amazon)
---
SteelSeries Sensei gaming mouse
When I reviewed SteelSeries' Sensei gaming mouse, I was impressed with its solidity, build quality and ability to go from wired mouse to wireless peripheral with little effort. Months later, it's still my preferred mouse for all sorts of Mac gaming.
SteelSeries' legendary attention to detail and quality shows in every bit of the Sensei mouse: The weight is perfect to allow quick-yet-steady movement on a variety of surfaces, the buttons are strong and tactile, the glide is never too fast or too slow and the included charging dock lets the Sensei maintain a lag-free connection to your Mac by avoiding Bluetooth altogether. Free software lets you customize the mouse buttons and change the colors of the dock.
SteelSeries Sensei Gaming Mouse ($159.99 from Amazon)
PlayStation Vita
Sony's always been a great hardware maker, but with the PlayStation Vita the electronics company has finally made a handheld with enough software support to make it worth the initial outlay.
Must-play PlayStation Vita games:
Persona 4 Golden
— The ultimate Japanese RPG: You'll go to class, make friends, deal with bullies and fight demons.
Gravity Rush
— Fly through this weird city with the most innovative control scheme ever invented; explore the town, battle dimensional monsters, set up your own home in the sewer.
Rymdkapsel
— Like
Tetris
if it were a real-time strategy base-building game; create an abstract spaceship to repel hordes of invading aliens.
Spelunky
— A platforming game with a roguelike twist.
Thomas Was Alone
— Clever puzzle game with a unique narrative twist; brilliant game stars comedian Danny Wallace as hilarious narrator.
The Vita uses a small card for game software, but really shines as an Internet-connected gaming device. All games can be downloaded from the PlayStation Network, and the robust PS Plus selection of free titles adds one to three new ones every month to keep your PS Vita memory card full.
The bright, crisp screen makes gaming on the go fantastic, with a responsive touchscreen and rear touch panel providing input in addition to the standard buttons and dual analog game sticks on the Vita's face. The screen was the one to beat before the iPhone 6 Plus game out, and still holds its own with any other dedicated handheld gaming device.
You can even control and play games on your PS4 via the Vita screen at home or over the Internet, though a strong local wireless or wired network on the PS4 is important to make the connection worthwhile. The Vita also allows for Netflix, Amazon, Hulu and Redbox Instant Video playback.
Titles available for the Vita range from deep games like Gravity Rush and Tearaway to smaller yet equally satisfying indies like Thomas Was Alone, Fez and Spelunky. You can also play a large selection of PlayStation 1, 2 and PSP games on the system, all available via the PlayStation Network Store that you can access right on the Vita. PlayStation Now lets you play select PS3 games on the Vita as well. You'll never run out of great games to play on this fantastic handheld system.
PlayStation Vita ($240 from Amazon)
iPhone 6 Plus
You can rock some amazing games on the iPad Air 2, but for my money, the iPhone 6 Plus is the better gaming device.
Must-play iPhone 6 Plus games:
Device 6
— An innovative take on interactive audio fiction, with cascading stairways of text and audiovisual puzzles that will bend your brain.
Infinity Blade III
— Fantasy-themed battle threequel is simply stunning at the iPhone 6 Plus' high resolution; heart-pounding action with gorgeous visuals.
Asphalt 8
— The closest you'll get to console-style racing on your mobile device.
Modern Combat 5
— Console-level first-person shooter goodness that's been optimized for smoother animations and stunning visuals.
Super Hexagon
— For fans of brutal twitch-gaming and super-intense EDM-style soundtracks.
You'll always have it with you, for one thing, and that big, beautiful screen just begs to run graphics-intensive games while on the go.
Add a pair of Bluetooth headphones (or even the Ear Pods bundled in with the iPhone) and you're in your own private gaming Idaho, stomping monsters or matching gems on the bus, in the backseat of the car or at a hot lunch spot.
The Plus brings some serious specs that make gaming amazing. The screen is a bit bigger than the PlayStation Vita, and maybe even a bit brighter and crisper, running a 1,920-by-1,080-pixel resolution at 401 pixels per inch.
The A8 chip, plus the new Metal graphics framework, virtually guarantee an amazing gaming performance no matter what you put on this thing.
iPhone 6 Plus (starting at $299 with two-year contract from Apple)
Razer Blade gaming laptop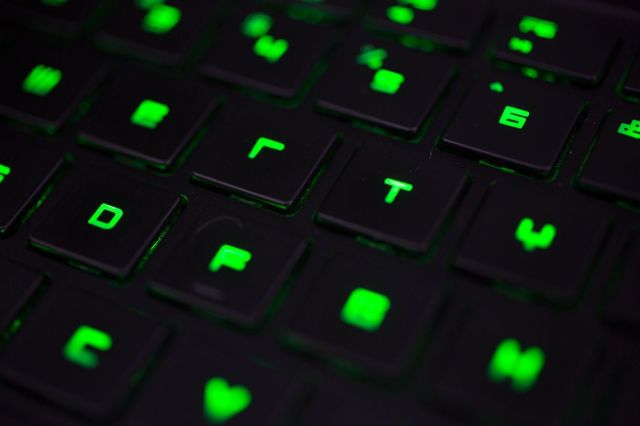 You might wonder why an inveterate Mac user would ever suggest a Windows machine, but in the case of the Razer Blade 14-inch gaming laptop, I have to admit I'm a convert. This is a well-built laptop with a touchscreen, an Intel i7 CPU and a dedicated graphics chip that will let even the most graphics-intensive game run at a buttery 60 frames per second.
This unibody-style laptop isn't some crappy commodity PC — it looks a lot like a MacBook that's been painted black and given some funky green light-up keys. Side by side, the Blade is only negligibly thicker than my MacBook Pro, too.
I ran several games on the Blade, including Borderlands: The Pre-Sequel and Star Wars: The Old Republic, the latter of which has some pretty high-end requirements for an MMO. The Blade ran it with ultra-high graphics settings, and the animations still felt smooth as silk. I launched the latest Borderlands game on the Blade to compare it to running on my MacBook Pro, and wow does it look a lot crisper and brighter on the Blade.
While I would still rather run OS X on a MacBook Pro, for a pure gaming rig I'd have to recommend the Razer Blade for its quality build, stellar graphics and gaming performance.
Razer Blade 14-inch Gaming Laptop ($2,699 from Amazon)
Steel Series Wireless H headset
Imagine yourself getting ready for a long day of gaming, stretching out on the couch, launching your favorite gaming console, and positioning the Doritos and Mountain Dew just right. Even if you have a full-on, theater-quality sound system hooked up to your 60-inch HDTV, chances are you'll want to pop on a nice headset with an integrated mic so you can game long into the night without disturbing your girlfriend or nearby neighbors.
The problem with wired headsets, however, is that you'll generally need a really long cord to reach from your console to your couch. In my living room, which is by no means cavernous, the TV and PlayStation sit clear across the room from my comfy couch, and the wired headsets I've tried just end up tangling up when not in use (or tripping up anyone who comes over to game with me).
The Wireless H headphones from SteelSeries is the answer. They sport comfortable, memory-foam ear cups, incredibly solid sound reproduction (with Dolby 7.1) and an integrated microphone that slides into the right ear cup when not in use. Better yet, these babies come with two rechargeable batteries, so you can charge one while using up the other. The charging happens in a magic little box, about the size of an Apple TV, that sits near your TV and acts as the wireless transceiver for any sound source you can throw at it.
In my house, I connect all my consoles to my big screen, then use an optical out cable to connect to the Wireless H headphone box, so I can use the headphones with all connected sound sources. That way, when my kids want to watch some Netflix or play a little Destiny, I can continue to work in the same room on my laptop while they bliss out with amazing sound and no cords.
SteelSeries Wireless H Headphones ($299.99 from Amazon)