SAN FRANCISCO, MACWORLD 2010 — Here's some of the sights and er, more sights, of the Macworld 2010 show floor.
Cute girl from Joby holding a Gorillamobile. The bendy legs can wrap around anything to support your viewing devices. They are selling like hotcakes.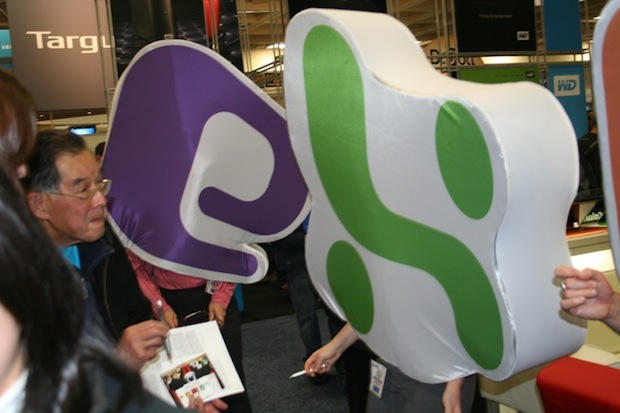 Microsoft Office Icons passing out pens. Cute idea but I wondered if they'd get groped in those costumes, like the princesses at Disneyland.
Fastmac is testing out the impact sleeve with M&Ms and a hammer. Amazingly the candy survived.  Good show to watch.

More Fastmac products demoed for the TV cameras.
This DJay toy seems super cool. Use it with iTunes to create your own mixes.
I have never seen so many gloves for iPhones (okay only three) in my life! These gloves are designed to wear in the cold so you can use your device. At $15 a pair these are a steal.
Hard Candy Cases make cute computer covers in a variety of colors that will remind you of those Jolly Rancher hard candies.
Fun stickers for sale by OttoSkins. They also make skins for your electronic devices.
Silo Ink makes this crazy IV-like drip device for your printer. They are refillable and feed from the outside cartridges to small cartridges inside the machine. They last longer than standard ink cartridges and are a lot cheaper.
When I asked a worker at the Scosche booth what was hot this year, he led me to this guy. Hilarious! But seriously — they have a ton of products.
Smiling faces at the Snuggbuds counter. Snuggbuds are earbuds for sporty types.
Uncommon allows you to create your very own shatterproof polycarbonate iPhone cover that will take any beating. For $39.95 you can send them a picture or some artwork. What a deal for priceless memories. It is way better than a tattoo and cheaper too.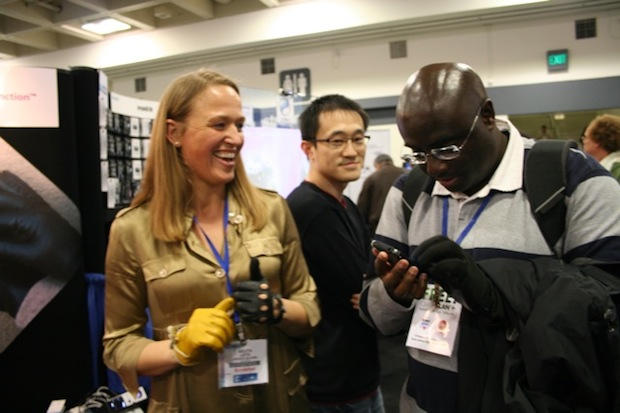 These are the high, high end iTouch Gloves. Made from high-quality leather, they cost more than $100 but are probably worth every penny. From what I have heard, the lady who designed these also designed Michael Jackson's gloves he wore at his funeral.
This guy invented the BudSock. It keeps your wires from getting tangles by holding them snugly in place. A clever device for a mere $4.00.
The folks at Urban Tool make a variety of modern-day fanny packs, only cooler. They have many styles and many slots to hold your many Mac products.
I love these guys from GelaSkins. They have been around the longest and their stuff is way cool. They have a Macworld buy-two-get-one-free special. The only problem I have is deciding which one to get for what device.
iaPeel allows you to design and print personal electronic device skins on your own printer. They provide the software and blank skins, you provide the imagination. Sounds fun.
Nice modern-looking speakers paired with a  guy who is clearly not afraid of wearing pink. I can totally see this as an exhibit at the MOMA.
This Mikey contraption from Blue Microphones was getting a lot of attention. It's a high-quality microphone that plugs into your iPhone allowing you to record conversations. These guys also had the best t-shirts.
Who doesn't love penguins? Super cute USB flash drives made from plastic, in dozens of different styles and animals. Available from Fruitshop International. Aaaawww!